MEET THE TEAM
Our team consists of a Board of Management, Head Office Staff, Camp Kokoda Staff and an army of loyal volunteers; all working towards our mission to change lives through the Spirit of Kokoda. Read a bit about us all below...
BOARD OF MANAGEMENT
Kokoda Youth Foundation is a Public Benevolent Institution. To join Kokoda Youth Foundation, you must be nominated by a current foundation member and ratified at a general foundation meeting. If you're interested in joining Kokoda Youth Foundation, please contact us to receive an application for nomination form. Kokoda Youth Foundation's board of management meets quarterly to ensure all activities and future developments are in line with the foundation's constitution and mission statement.

DOUG HENDERSON OAM
Founder and Chairman
Doug is a Vietnam Veteran who served as a medic with 6th Battalion RAR in 1966-67. He was seriously wounded in service and medically discharged from the army due to the injuries he sustained. He went on to own and operate a successful insurance assessing company and Express Courier business in Sydney before retiring to the Gold Coast in 1994. Doug has served on the Australian government's National Suicide Prevention Committee and Department of Veterans Affairs' National Operations Working Party. In 2004, he resigned from his 10 year tenure as a Veterans' Advocate to pursue his interest in Kokoda and supporting young Australians as founder of Kokoda Youth Foundation.

LYNLEY MANGIN
Deputy Chair
Lynley has been involved with the KYF since 2006 both as a competitor and a volunteer. Since 2009, she has been a leader and group leader with the youth program, walking the Kokoda Track for the 8th time in 2018. Professionally, Lynley works in IT and facilities management for the Brisbane office of a global medical indemnity group.

JAMES HALL


Secretary

James was originally a Police Inspector with the Royal Hong Kong Police Force. He then held management positions with BP, Rio Tinto, Inchcape, SA Government (Director level), Hong Kong Tourism Board, Broken Hill City Council (CEO), TransAdelaide, Brisbane Ferries and Tanzanian Ferries. He has worked in New Zealand, United Kingdom, Hong Kong, Papua New Guinea, Tanzania and all of the Mainland States of Australia. Holding a BA Degree in Political Science/History, Graduate Diploma in Management and an MBA. He is also a qualified Justice of the Peace and was a Fellow of the Governance Institute (by examination), Marketing Institute and an Associate Fellow of the Australian Institute of Management. He took up the role as Secretary to the KYF Board in late October 2017 and assumed the role of Acting Executive Director January 2018-September 2018.

CHRIS GLENNISTER


Director

Chris has spent over 10 years with Telstra and is now a Business Development Executive. Previously he spent 3 years with Delfcom in Sales. He attended Southport School. He has the distinction of being one of the fastest on our courses and has competed in ten Kokoda Challenges and has been a great supporter of our Youth Programs for many years.

DAVID GARDNER


Tresurer

David is an experienced Chief and Senior Executive and Board member, who has been able to add significant value to every organisation with which he has been involved over the past 20 years. He has a background in accounting and management and his career has spanned across mining, leisure management, the legal profession, primary healthcare and the not for profit sector. David is also currently on the Board of ASD Learning Ltd.

David completed the 96km Gold Coast Challenge in 2015 and has participated in the 30km Brisbane Challenge on a number of occasions. He has also volunteered at the Gold Coast event including being a Checkpoint Captain.

SHANE STEDWELL


Director

Shane began his journey with the KYF 15 years ago as an original Kokoda Kid and has never looked back. Since then he has returned as a Volunteer leader 4 times, endured 5 gruelling trips to Papua New Guinea and conquered 8 Kokoda Challenges. Shane has experienced almost everything that KYF has to offer as a volunteer. Shane says, "what KYF has given me in life is nothing short of amazing and I'm excited to continue my journey with the Foundation." Shane works for SurfStitch.com as a buying coordinator for men's and boy's wear. Coming from being a Kokoda Kid, Shane has a drive and lust for life that has taken him from working in the warehouse to his current position.

RYAN MARTIN


Director

Ryan is a Director of The Learning Project in Melbourne. Prior to this time, he spent 4 years as Principal Of Bachelor in the Northern Territory where he was appointed as Principal of the Year and was Principal of Bee Creek Primary School. Originally from the Gold Coast, he headed up the Senior School at St. Andrews Lutheran College. He holds a Graduate Diploma in Education from the Australian Catholic University. Ryan competed in the very first Kokoda Challenge in 2005, and in 2006 had the distinction of not only competing in the Kokoda Challenge with one of the very first school teams and was the very first school team to win the 96km event. He went on to win a number's of events with St Andrew's Lutheran College and won every time. Ryan is an excellent educator.

SOPHIE HOSKINS


Director

Sophie is an original 2005 Kokoda Kid, and has been involved with KYF ever since. Sophie has a background in health and education, with interests in working with the community. Sophie works as a paramedic and has qualifications in community service, education, small business management and health science (Hons). She travelled to PNG as Doug Henderson's medic and walked alongside him for the entire trek, tending to his medical needs and ensuring he completed the bucket list Kokoda Track in good health. This experience bonded Sophie to Doug and the Foundation more than she ever thought possible.

KELLY MCDONNELL


Event Director

LAURA McGLONE


Event & Fundraising Coordinator

DANN HOLLINGSHED


Youth Services Manager

JOY STAFF


Personal Assistant to Founder

BOB NEWMAN


Event Operations Manager

SAMANTHA CORNISH


On The Right Track (OTRT) Program Coordinator

LAURA SKINNER


Camp Manager

BEC HUDSON


CAMP ADMIN OFFICER

TONY LEE


SENIOR INSTRUCTOR

BELINDA STUART


Camp Instructor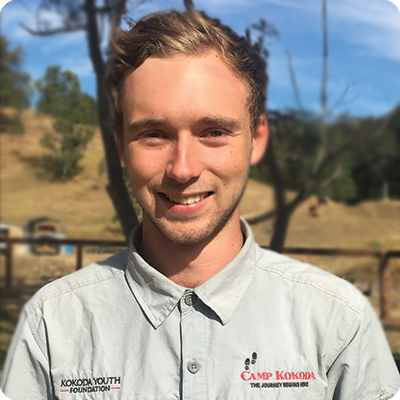 Branden Godfrey


Camp Instructor

JAKEB HEIDKE


Camp Instructor