We're tackling the Kokoda Challenge for .....
We are taking on the 2021 Brisbane Kokoda Challenge!
In June 2021, my teammates and I will be tackling the Brisbane Kokoda Challenge - Australia's toughest team endurance event. 
This event raises funds for Aussie kids who participate in the Youth Programs run by the Kokoda Youth Foundation.
The Kokoda Youth Foundation is a local charity and their mission is to change the lives of Aussie teens by providing experiential programs that engage and inspire them to reach their full potential.  
We are tackling the Kokoda Challenge to push our own physical and mental boundaries, and to change the lives of youth in our community. 2020 was a hard year on us all, your support and donation to this cause means the world to me and my team – thank you!
Thank you to our Sponsors Mandy Cooper Jen Atkins Elaine Cooper James Atkins Moana Cooper Sandrine & Bill Pouw Kaya Celik Sacha Pouw Anthony Ikin Andrew Combe Kath Tierney Amy Tredinnick Karla Reid David Reid
Peter And Helen Reid Cian Butron Mclean Tina Moore Gemma Kelly Cheryl Collins
Lisa Pritchard
Www.3dstem.com.au Simon Combe Patsy Tierney Richie Y
Allie Bailey David Mcewan Manny G.
Luz Black Danielle Youngs Carl Martin Linda Macgregor
Michael Stark James Tredinnick Gabrielle Black
James Hancock
Ella Combe Edwina Lye Dominique Deschamps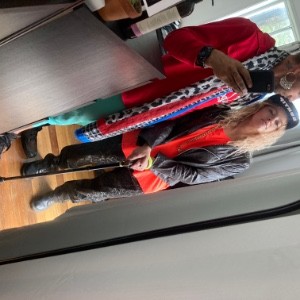 Danny And Jess Gabrielle Freer Jeanie Mahoney Anonymous Propeller Graphics - Alice David Farrell Daniela Nickel Fred Pawle Anna Ferguson Herman Piersma Ella Combe
Matt & Shell Marie Andersson
Pongo Maria Macdonald Caitlin Reid Madeleine Armstrong Elizabeth Tallon Cian Butron Mclean Edrae Damrow