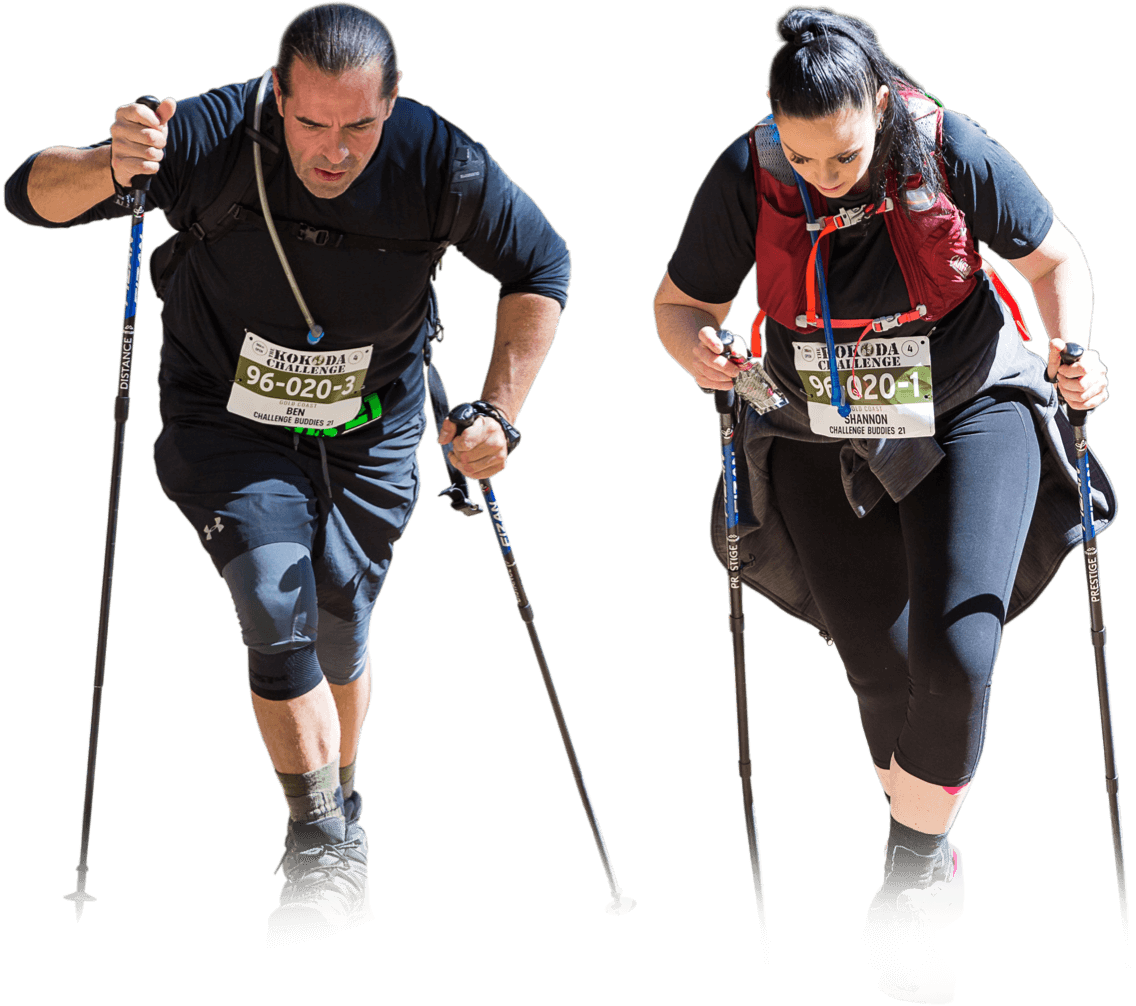 The Kokoda Challenge is not your average event. It's not just a standard trail run or charity walk, it's about experiencing a glimpse of what our Aussie heroes endured while defending our country in 1942 on the Kokoda Track. It's about giving back to the locals and connecting with one another in the community. It's about proving to yourself that you are capable of far more than what you think you are when you have your mates beside you.
The Kokoda Challenge is Australia's toughest team endurance event. Are you ready for the challenge?
Before you get started, there's a few things you need to know. Firstly, The Kokoda Challenge is a team event, meaning you have to walk with a team, you cannot walk as an individual. However, if you are struggling to find a team, register for our team matching service and we can set you up with others who are on the hunt for team members too!
Secondly, this is an endurance event, it's not a gentle stroll through the forest. You'll trudge through rivers, climb relentless hills and battle brutal blisters. The terrain is supposed to best emulate what you would find on the real Kokoda Track in Papua New Guinea so you can gain a better understanding of what our Diggers faced while defending Australia against the Japanese in 1942.
We urge you to not let the elevation or distance deter you, as many of our competitors say that they wouldn't have signed up if they knew just how tough it was going to be, but are ecstatic that they did because they proved to themselves they are capable of so much more than what they think.
Lastly, we are a charity, not an event organisation. This means that there is a fundraising component, which allows us to run life-changing youth programs that mentors kids in the local community. This is an opportunity for you to help make an impact on the lives of local teens and help out in your community.
Life Changing

Team Events
You must have a team to enter The Kokoda Challenge, the number of team members required depends on the distance you're tackling. Register for our team matching service if you're having trouble finding a team!
Click register now and follow the prompts to register your team. Your team members will be emailed a link for them to follow the same process so everyone has a profile.
Through this event, you will be raising funds for life-changing youth programs run by the Kokoda Youth Foundation. Fundraising is required!
Head out onto the trails with your team to get ready for the big event! You will need to train as this is not just a walk in the park.
Take on The Kokoda Challenge
You're only as fast as your slowest team member and the goal is to cross the finish line as a whole team, leave no one behind!
The most challenging and rewarding experience that I have ever undertaken. It gave me a strength I didn't know I had, and I finished it with teammates who became my trusted and cherished friends for life.



Stacy
I had an incredible journey with my team. There was so much teamwork and mateship on the track that inspired me and pushed me across the finish line. While we were walking we all said we would never do it again, and within 24 hours we were planning for next year!
Amanda
It's an experience like no other. If you want to find the limit to which you can push your mind and your body then this is the challenge for you. With amazing scenery to do it in too, even if you are staring at the ground for what seems like most of the event.


Graham
1 in 4 young people

will experience


mental health problems


in any one year
Fundraise for our life-changing youth programs through The Kokoda Challenge