Karen Bates is walking to change the lives of Aussie teenagers, giving back to the cause that recently helped her out of a very rough patch.
"In 2017 I was in a very dark place mentally and emotionally and struggled to physically complete day-to-day tasks after two traumatic events in my life," she said.
"It took six months to pull through the depression and anxiety attacks, and I decided I needed to find my self-worth, confidence and self-esteem again; I was lost somewhere."
Part of her recovery was a desire to commit to something that would strengthen her mind and body, and that's where the Kokoda Challenge came in.
Karen began searching for a team.
"I surprised myself with my commitment to all the hard training I did, whether it was slogging it out on the hills or my weekly running, walking or gym routines," she said.
"The friendships and encouragement we receive from our team and the Kokoda community is phenomenal; on last year's event day I could not believe the number of teams wishing us well and encouraging us along the track."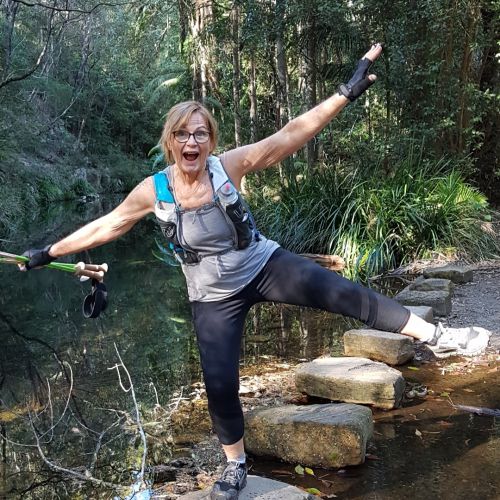 Karen also connected with the history and cause of the event, fundraising to change the lives of youth through the Spirit of Kokoda.
"To help these kids get into programs that will help them grow into people who will one day be a huge influence on our country, and to help them find their own self-esteem and confidence, is just amazing," she said.
"Participating in the 96km is also a mark of respect for the brave young soldiers who fought and died for this beautiful country of ours."
When asked for training advice, Karen said she had to mention a tip given to her by Kokoda Challenge legend Kev Davies.
"Kev was a great support of knowledge to my team last year and he drummed it into us to stay on the bus; to only ever be a bus length away from any of your teammates," she said.
"I also have to mention the support crews and volunteers; they go far beyond our expectations with the help and support they give."
Karen recently walked the Great Ocean Road solo carrying over 16 kilograms in her pack, and said she looks forward to buzz of this year's event day.
"When you cross that line as a team, hands clasped and raised in the air in pure triumph, you know you have not only done yourself proud but I'm sure those soldiers of Kokoda are damn proud too!"
"You've also contributed to helping the youth of our society to a better future."
The 96km Kokoda Challenge is held in the Gold Coast Hinterland on 20-21 July. Register at www.kokodachallenge.com/events