Hiking Pages Pinnacle | Gold Coast
Pages Pinnacle is one of the Gold Coast's best kept secrets! The hiking trial is situated in Springbrook national park and is known to locals as one of the best places to capture stunning, insta-worthy pictures of the Gold Coast hinterland. However, Pages Pinnacle is not for the faint hearted, with the 6km return track reaching over 400 meters of elevation (the same elevation at the top of Hellfire Pass!). Are you up for the challenge?
*Please note that there is a steep and rocky climb to the "tip" of the Pinnacle. We do NOT encourage Kokoda Challenge participants to attempt this dangerous climb.
How To Get There
Address: Pages Pinnacle, Advancetown QLD 4211
Pages Pinnacle is approximately a 30-minute drive inland from the Narang Velodrome (finish line for the Gold Coast Kokoda Challenge events). Whether you are coming from north or south bound, you will encounter may steep and windy roads, so be sure to buckle up and take the corners SLOW. Nearing the end of your journey, you will pass Advancetown Lake. Be sure to take a mental image of this location because you may get a different view of it during your hike!
* Be sure to not block any entry gates when parking as our good friends at Gold Coast scouts use a nearby location for their campouts.
Duration
Do not let the 6km in length fool you! Page Pinnacle has sharp uphill climbs, and steep downhill decants that will challenge even the most experienced hiker. For the climb itself, we recommend allowing at least 2.5 hours of hiking time. However, you will find yourself frequently stopping and taking advantage of picturesque hills and landscapes. So, for those who want to take in the well-deserved view and have lunch at the top, we recommend 3.5 hours for the hike.
*Top tip! The tip of the Pinnacle is exposed to direct sunlight. Be sure to wear and re-apply sunscreen as you hike to avoid a nasty burn.

..
Difficulty
Pages Pinnacle is one of the steepest hikes to tackle within the Gold Coast hinterland. The track is labelled as "advanced" by Parks Queensland, and we could not agree more. This intense hike is an advanced track and will test any and all Kokoda Challenge participants. Ensure you have the correct equipment such as walking poles, hiking boots and at least 2 liters of water to take on this climb.
About the Track
*Due to the intense nature of the hike, we do not recommend attempting it alone.
Although Pages Pinnacle is not included in the Kokoda Challenge events, the hike is nestled between Polly's and the hills of Numinbah, making it the perfect training route for our Kokodians.
Before you set out to take on the climb, we recommend you first check weather conditions will allow you to do so safely. Being of high elevation, the hike is heavily affected when there is moderate to intense rainfall. The hike is also subject to erosion and falling trees if there has recently been a large storm in the area. If there has been recent intense rainfall, we suggest taking on another training routes, such as Hellfire Pass (if you are up for the challenge!). If there are clear sky's predicted and the track is safely accessible, then away you go!
Once you arrive at the car park area, you will then need to make your way into the National Park. There is a designated "walk around" space that allows you to safely enter the track. Be sure to utilize this pace and avoid jumping or using the National Park fence. Enter the park and start your hike!
The hike will start with some gracious rolling hills, passing the bottom of the Advancetown Lake before heading into the park. Around 400 meters in, you will have to cross a (usually) flowing creek. If you cross on the left side, you will be able to safely rock hop your way across. If you cross on the right side of the creek, we can almost guarantee you will have to trek the rest of the way with a soaking wet shoe …but you do you!
After approximately 1km of walking, you will start to hit the REAL hills. These climbs come out of nowhere, so be sure the mind and body is prepared when you are faced with a false peak (or two…or three!). You will find yourself at various intersections along the track, so be sure to download the All Trials guide and follow the directions as outlined.
The next 1km is sure to make them legs burn with short and sweet steep up-hill climbs. While majority of the time you will find yourself with your head down as you power along the track, be sure to still take in your surroundings. Long the track there are various ancient trees and unique landscapes, so every now and then stop for a breath and enjoy the walk for all it has to offer. We managed to see an old beehive in the middle of the track!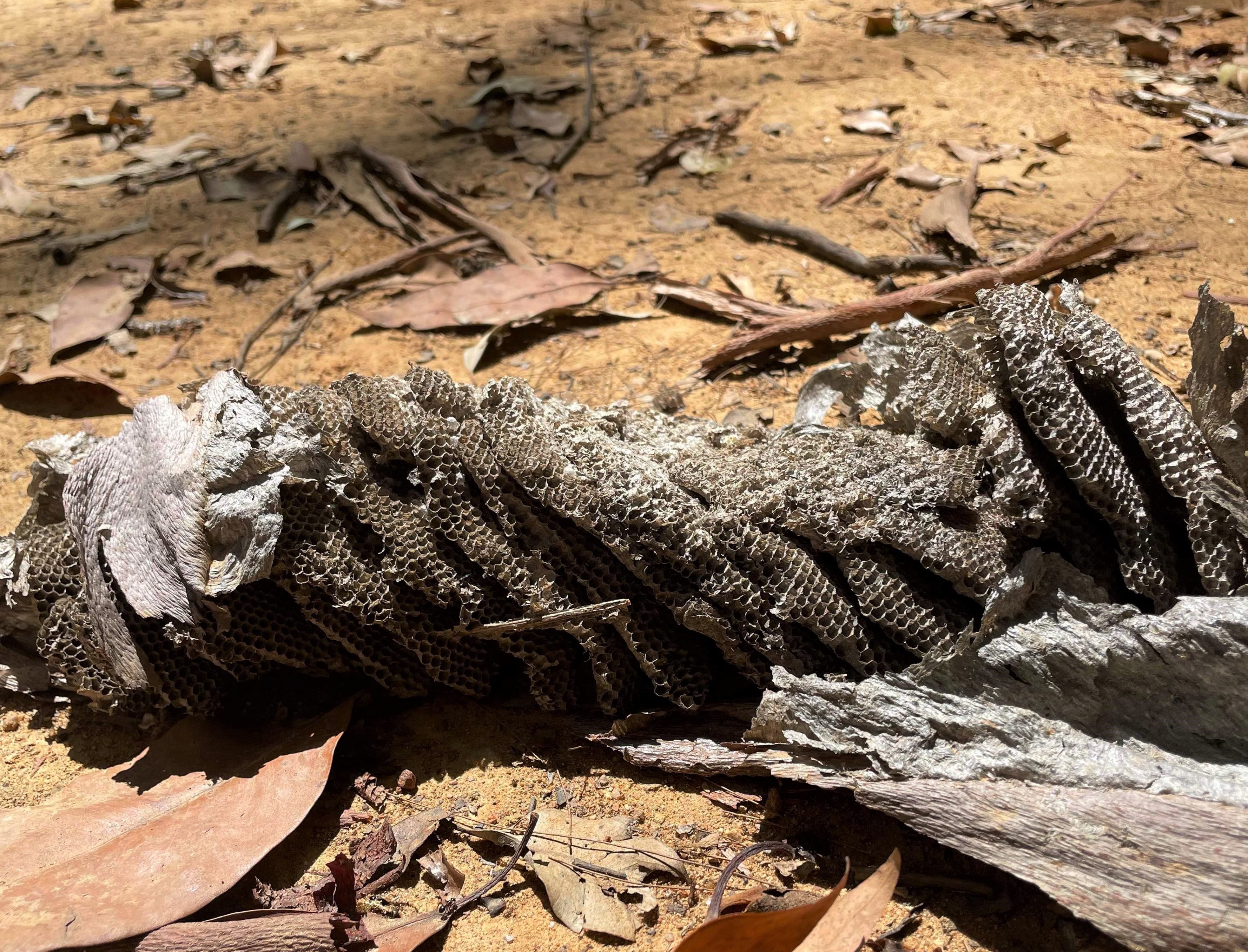 Once you reach almost full elevation, your All Trails guide will direct you LEFT onto a narrow, bushy path. Safely navigate your way along this path, taking in the old trees and wildflowers surrounding you. As you walk along this path, you will approach a clearing marked by a fallen log. Please ensure all children are monitored at this point as the Pinnacle is just around the corner.
You then must hop over the log and safely make your way over the first rock face. You will then be fronted with one of the most stunning hinterland views on the Gold Coast; you have conquered Pages Pinnacle!
We do NOT recommend climbing any further along the ridgeline as it can be extremely dangerous if not attempted by an equipped professional. Instead, why not pull out a packed lunch and get those grammable pictures of the stunning ridgeline.
Once you are ready, pack up all rubbish and follow your All Trails guide back to the start point.
Want a hike even MORE Challenging than Pages Pinnacle?
Check out our Gold Coast 96km event:
2022 Gold Coast Kokoda Challenge
Or to get more training routes and hiking destinations around Sunshine Coast like this delivered straight to your inbox, enter your details below!