Sara Keith's Kokoda Challenge Tips & Tricks
Hello to whoever has found themselves reading this blog post. Whether you are a fellow/past Kokoda Challenge competitor, someone who is interested in taking part in the challenge, or anyone else that may be reading this.


My name is Sara Keith and I have been involved with the Kokoda Challenge since 2011 and have completed the 96km Kokoda Challenge 10 times and will be toeing the line again this year for the 96km Kokoda Challenge. I have also taken part in the Brisbane Kokoda Challenge & the Sunshine Kokoda Challenge once and was a Kokoda Kid in 2013 and took part in the Youth Program.


The Kokoda Challenge has taken up a huge part of my life and I absolutely love being involved with it each and every year. I commend you for taking the leap and taking part in such an amazing challenge or if you are considering taking part, then I highly recommend finding a team and giving it a go. It is certainly a rewarding a life changing experience and you will be supporting the youth of Australia.


I also found that by learning about the history of the Kokoda campaign, it makes you aware of what the diggers faced and just how important the four pillars of Kokoda truly are.
You will need to demonstrate the pillars which are -strength, mateship, endurance and sacrifice in order to successfully complete the challenge. I have compiled some tips and tricks from over the years and have included twelve of them in this blog. I know that some of these tips won't work for everyone, but these are things that have helped me to complete the challenge each year.
1. Practice your nutrition in training
Never try something new on the day of the challenge. I highly recommend practising your nutrition in training to see how well it fuels you and to see how your body reacts to it. If you try a new gel or food on the day, it may upset your stomach or not work for you and you could have easily prevented it by trying it prior. If you are unsure about what kinds of foods to have or how many carbohydrates and calories you should be fuelling with each hour, then I highly recommend speaking to a sports dietitian.
2. Electrolytes are important
Although it's winter, it is still usually quite warm in the sun, and you will find yourself sweating when going up the monstrous hills. I recommend always carrying a bottle of electrolytes with you and to sip on them consistently. Fluid in general is important and you should still be sipping on your water consistently. A hydration bladder makes this much easier than having to stop and grab a water bottle out whenever you want to have a drink. I personally like to purchase a few different flavours from the same brand, and I pre make them up in 600ml bottles a day prior to the challenge. It gives me variety on the day, makes it super easy and convenient and your body will thank you for it.
3. Embrace the creek crossings
There are seven creek crossings on the challenge, and they are all between checkpoint 5 & 6. It has been relatively dry lately but when there is water in the creeks, I find it best to walk straight through the creeks, as it feels refreshing on the feet and it will save you the time and hassle of attempting to rock hop or taking your shoes off at each creek crossing. Checkpoint 6 is a major checkpoint (Numinbah) and you can change your shoes and socks there.
4. Poles come in handy
Poles come in super handy throughout the challenge, especially in the second half as you begin to fatigue, and your muscles start to hurt. Poles reduce the effort placed on your leg muscles as they share the load with your upper body muscles and transfer the weight, strain and stress evenly across muscles. I usually hike with one pole as it still takes some stress off but I also have a spare hand for snacking (Super important!). I do highly recommend using a pole or two and to practise with them in training prior so you can get the hang of them and see if you like them or not.

5. Ways to prevent blisters & chafe
Blisters and chafe are two big factors which contribute to people pulling out each year. If you can find what works for you to help prevent blisters and chafe, then you will have a more enjoyable challenge. I always tape my feet the day before the challenge, so the tape can mould to my feet and I can get used to it. Make sure if you do tape your feet, that there are no creases, as they can rub and cause blisters over time. I also wear Injinji toe socks during training and on the day and take at least two pairs, so I can change them after the waterfall loop. I know that a lot of people find toe socks weird or uncomfortable, but I swear by them, and I rarely get blisters throughout the challenges. I also recommend getting shoes which are at least ½ a size bigger, as it is likely that your feet will swell. I also use skin slik on areas that rub to prevent chafe and there are a lot of similar products out there.
6. Use a box for the Checkpoints
I always put my spare gear and food in a small plastic tub with my name labelled on it, so the support crew have all of my stuff together and can locate it easily when I am coming into a checkpoint. I also label a zip lock bag with the name of each checkpoint and put the food and items in it, so it can be easily grabbed out of my box by the crew. It makes it easier on the day and saves any stress which can be caused by not being able to find certain items.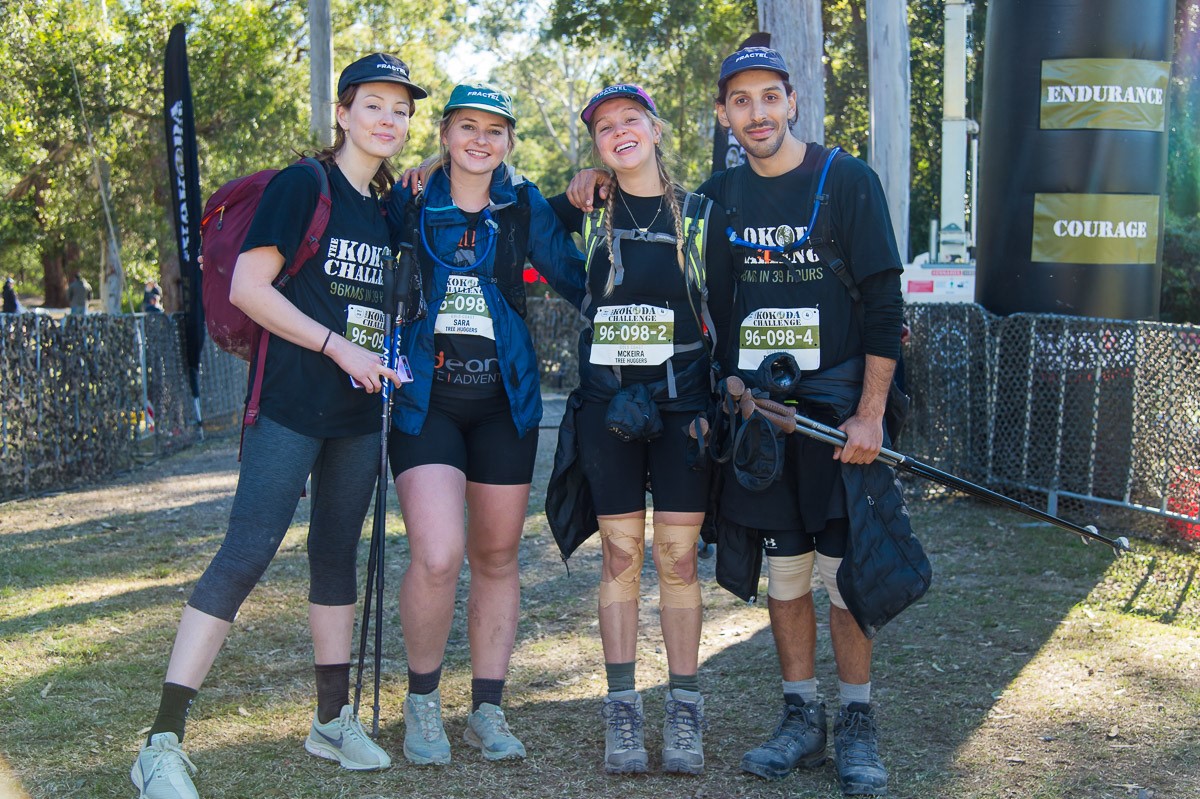 7. Train on the course
I understand that some people live in different states and can't train on the course, but if you do live near the Gold Coast, then I recommend training on different sections of the course. It will make you familiar with the course on the day and you will know what is to come, what to expect and how to best execute the challenge. You will also get a feel for the hills and I have found that it makes them less daunting once you have trained on them at least once.
8. Invest in a good head lamp
A good head torch will make a huge difference during the challenge. You will be walking in the dark for up to 12 hours and all you will be seeing is a circle of light. If you have a dim head lamp or one that dies super quickly, then it will most likely impact you. I find that night training is also beneficial as you can practise walking in the dark and also test out your head torch.
9. Make a team playlist
During the challenge, there will reach a point where you will start falling asleep or where you need a little pick me up. I usually bring a lightweight speaker and play music once it gets dark. Be mindful to always be respectful around houses, especially if it is late at night or early in the morning. We usually make a team playlist and all contribute to it, so everyone has music that uplifts them and they can sing along to it. Throwback songs are always welcome and get the vibes going. I remember singing Another one bites the dust by Queen on repeat, whilst hiking up Army Land one year with the team and it is a memory I will never forget.
10. Get into the right mindset
One of my favourite quotes is, "The body achieves, what the mind believes". It is super important to get into the right mindset prior to the challenge as it will set you up for success on the day. If you go into the challenge, doubting yourself and your abilities then you will most likely struggle more on the day. The event will be tough, and you will need to be prepared to experience highs and lows. I always break the challenge up into checkpoint by checkpoint, so it doesn't feel as daunting when you still have 70kms to go. I also find that it is easier to get into the right mindset, by smashing out training hikes as it puts you into the right frame of mind for the challenge as you get to the day, knowing that you have done all of the work.
11. Practise with your gear
Train with all your gear prior to the challenge to see if it works for you. You should break in your shoes before the challenge to prevent unnecessary rubbing and blisters in the challenge. It is also a good idea to train with the same pack/vest and hydration bladder that you will be using on the day. You may realise that you are not happy with a piece of gear or that your shoes don't fit you right and then you can go and sort these issues out before the big day.
12. Have a good support crew!
Having a support crew is essential during the challenge, and a good support crew that are aware of your teams needs will make the challenge that little bit easier. We usually have a meeting with the team and the support crew before the event, so everyone is on the same page and knows what is expected. We discuss the foods that we want at each checkpoint, the gear needed for us and for them, how long we would like to stop at each checkpoint for and what car we will be using on the day.
Thank you for taking the time to read this blog write up and if you have any other questions or would like me to expand on a tip, then please feel free to reach out. I can be found on Instagram under the username @sarakeith_.
Good luck to all you who are taking part in the Kokoda Challenge for all distances. Remember to pay your respects to the diggers whilst you're out on the course and to remember the four pillars which are, mateship, sacrifice, endurance and courage. Happy hiking!
Want more trianing ideas and tips?
Head to our Explore and Learn page to check out our other blogs

Explore & Learn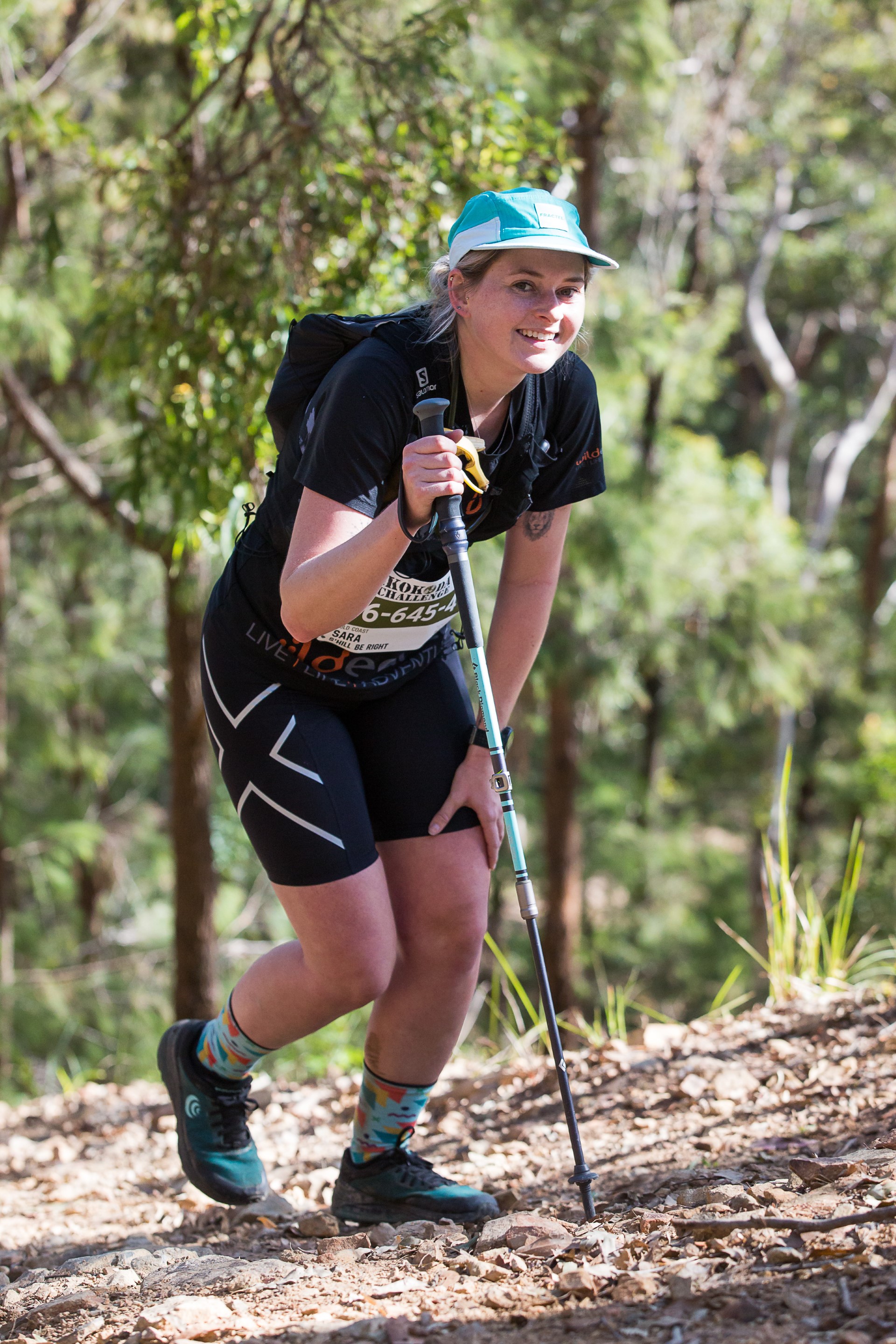 If you're an avid hiker like we are, why not test yourself in Australia's toughest team endurance event:
Or to get more training routes and hiking destinations around the Gold Coast like this delivered straight to your inbox, enter your details below!