WATERFALL CREEK CIRCUIT, NUMINBAH VALLEY
GOLD COAST
The Waterfall Creek Circuit is a short loop hike and a must-do for anyone visiting Springbrook National Park in the Gold Coast Hinterland. This 7.68 km loop trail offers 296 meters of elevation gain with the greater circuit being a moderately challenging 11.6km trek that takes hikers through the Numinbah Valley with a 470m elevation gain. This is also a popular route for trail runners as a good portion of the track is relatively flat.
BEFORE YOU GET THERE
Please note that parking is strictly prohibited at the Numinbah Valley School of the Arts Hall. There are also no petrol stations in the area, so make sure you fill up prior to departing. You'll also want to make sure you've downloaded the map and directions as there is no directional signage along the trail. We suggest doing the circuit anticlockwise to get the climb over and done with first.

Get there early so you don't have to the most challenging section in peak heat! Be sure to pack enough water and snacks to last because you'll be needing it after the steep climbs. There are 6 water crossings, 8 if you do the full circuit, so wear waterproof shoes or be prepared to get your feet wet. Check the weather before you leave home, particularly wet weather can make the track very muddy and slippery and this area is subject to flooding. We recommend tackling this track on a dry day but be sure to wear your sunscreen and keep an eye out for snakes!
HOW TO GET THERE
The trailhead starts off at the carpark on the corner of Nerang Murwillumbah Road and Pine Creek Road, southwest of Hinze Dam.
Get there by getting off the M1 at Nerang (Exit 69) and following Beaudesert Nerang Road connecting to Nerang Murwillumbah Road, stay along this route for 22kms before reaching the trailhead. There are some steep and windy roads along the way to be sure to buckle up and take it easy around the bends.
Please be aware that horses and bikes are allowed on this track, so be sure not to block the trail entrance when parking to allow room for our four-legged friends.
DURATION
For the short loop we recommend at least 2 hours to complete the route. Steep inclines and sharp descents are sure to slow down even the most advanced hikers. You'll also find yourself stopping and taking in the diverse views at water crossings and peaks.
The track isn't well protected from the sun so be sure to wear a hat and sunscreen. Bring sunscreen with you and reapply throughout the hike to avoid sunburn and heat stroke.
DIFFICULTY
The hike itself is a great mix of challenging inclines and easy terrain, making it perfect for hikers of all levels. There are several 'Advanced' track options for more seasoned hikers or those looking for a challenge. The trail is well-maintained and easy to follow, with a few signs and markers you can use as guide points along the way. The trail is also dotted with plenty of rest areas, where you can take a break and enjoy the beautiful scenery.
The Waterfall Creek Circuit hike takes you along the creek where you can enjoy the stunning views and listen to the soothing sound of the water cascading over the rocks. It's a truly magical experience and one that you won't forget anytime soon.
The trail also takes hikers through some of the most beautiful parts of the Numinbah Forest Reserve, which is home to an abundance of wildlife. Keep an eye out for the different species of birds, butterflies and other animals that call this area home. There may be horses walking the track, so keep an eye out for them as well.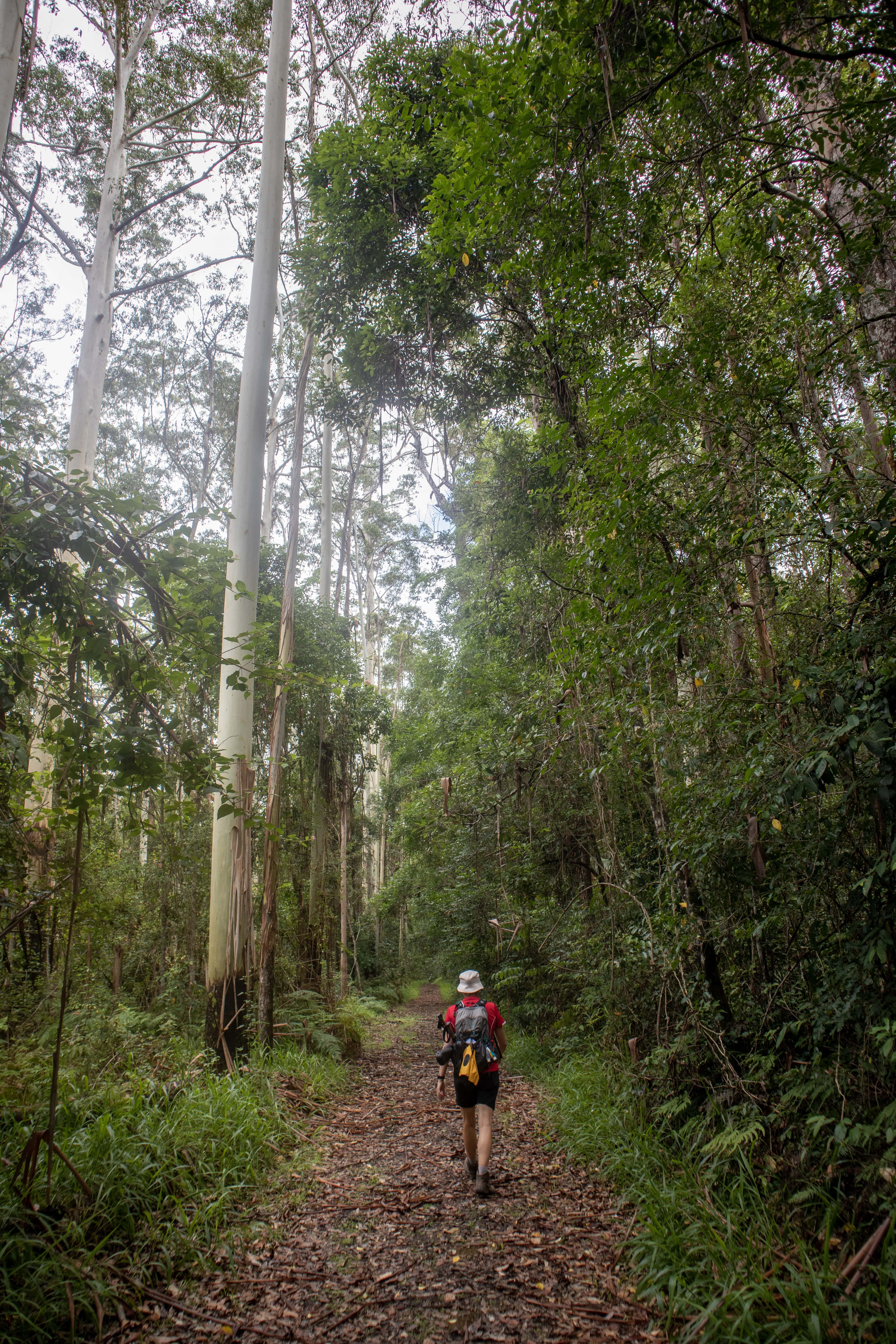 The trail is well-marked and easy to follow, making it a great option for families with children. There are plenty of opportunities to take a break and enjoy the scenery along the way, and the trail is suitable for walking trails as well.
You'll come to your first turn about half a kilometre in, turn right here to tackle the incline first, stay left if you want to take on the incline last. The climb begins almost immediately after this turn. Your calves will be on fire for the next 2 kilometres! Take in your hard work at the top before starting your descent. Take care coming down, there are some particularly steep spots. The track can be soft and slippery in some spots, particularly after rainfall.
The water crossings are fairly easy and you should be able to rock hop across without getting too wet. But look out for wobbly rocks, we almost lost our footing and a camera! Yikes!
The Waterfall Creek Circuit hike is a must-do for anyone visiting the Gold Coast hinterland. It's a great option for both experienced hikers and those who are new to the sport, with its well-maintained trail and beautiful scenery. Be sure to add this hike to your list of must-do hikes around Springbrook National Park. The trail is a great choice for those looking for a challenging hike with beautiful views, but also for those who are just looking for a leisurely hike through the natural beauty of the Numinbah Valley. It's a great way to explore the area and take in all that the region has to offer.
If you're an avid hiker like we are, why not test yourself in Australia's toughest team endurance event:
Or to get more training routes and hiking destinations around the Gold Coast like this delivered straight to your inbox, enter your details below!