Carnarvon Gorge, Outback Queensland
If you're anything like us, then you're probably no stranger to venturing to every corner of the world map to travel to different trekking destinations. With the ongoing current COVID crisis, it can make you start to feel a bit blue about being confined to Queensland, but the good news though is that Queensland is basically a country itself (did you know that the whole of the United Kingdom can fit into the state of Queensland alone!?). So why not make the most of this time by exploring your own beautiful backyard?
Accommodation and camping
First thing's first, you'll need to book where you're staying, which will depend on the type of accommodation you're seeking (whether you want luxury or now, also if you have a 4WD or not).
We stayed at the Takarakka Bush Resort, which was $45 a night for an unpowered campsite. This included access to the bathroom facilities with hot showers and flushing toilets as well as the camp kitchen which has sinks for washing up, tables and chairs as well as lights for when it gets dark.
We also stayed one night at Sandstone Park, which has the most spectacular 360 view of the surrounding landscape, even more spectacular during sunset and sunrise, both of which you can see from your campsite. Although the facilities are limited here (these are self-sufficient campsites and only provide a portaloo) it's worth staying even just for one night just to enjoy waking up to the view!
Neither of these campsites require a 4WD to gain access however there is water from the creek running over the road to access Takarakka, but it was easily accessed by our low clearance, 2WD van. Some campsites inside the national park can only be accessed by 4WD or by foot, this can only be booked via the Queensland Parks website.
Getting there
It's worthwhile calling up your accommodation to check road conditions before leaving, as the roads leading into the gorge are subject to flooding. We drove from Coolangatta in the Gold Coast, which Google Maps advised that it was going to take us around 9 hours until we arrive at our destination. Including stops, it took us about 11 hours to arrive at our caravan park.
It's extremely important to calculate when your arrival time will be to avoid during dusk, there are a lot of kangaroos out during this time and it's very dangerous to drive while they're most active.
Also note that you are venturing into Outback Queensland, meaning you will need to be well prepared with sufficient petrol (the last petrol station is in Injune, so make sure you fill up there and have a jerry can full of petrol just in case you get stuck!), water and food. While there is a café and restaurant situated near Carnarvon Gorge National Park, you don't want to rely on these places for food as they are not always open, only during specific times. The closest town is Rolleston, which is about a 2-hour return drive from the national park if you need to fill up on petrol or stock up on supplies, so it is better to come well prepared to avoid having to make this trip when you arrive.
When to go
We were blessed with spectacular weather for the entirety of our stay at Carnarvon Gorge. The days were warm and sunny, and the nights were cool with the sun rising at around 6:45 am and the sun setting at around 6:15 pm, providing ample daylight to fit all our hiking adventures in. We went during mid-August and while the park can be visited year round, make sure to check the Queensland Parks website for any updates regarding bushfires or floods.
Hiking
The walking trails in Carnarvon Gorge National Park are abundant, it really is a hiker's heaven. There are many tracks for you to choose from, each as stunning as the next. We spent three consecutive days hiking as we were determined to walk all the trails. We have outlined below how we split up our time in this beautiful place.
Click on the title of each day to see the AllTrails map:
Day one: Boolimba Bluff & Moss Garden
All of the main walking tracks start from the Carnarvon Gorge visitor area, there is a single walking track that runs right through the gorge where you then branch off at certain points to see different sights on the map, this track is very well signed but it's worth picking up a hard copy of the map when you enter the visitor centre.
The walk up to Boolimba Bluff is best done at sunrise, although we went during the day and it was still wonderful. You will start on the main walking track and eventually branch off when you see a sign indicating the turn off for Boolimba Bluff. You will slowly incline up before reaching a sign indicating that the last 300m of this track involves a very steep climb that includes both stairs and ladders. Once you tackle this challenging section and reach the top, you will meander through the trees to the lookout and you'll be relieved to know the walk from this point forward is flat! The surrounding ranges seem to go on and on as far as the eye can see. Enjoy a break here to soak up the views before heading back down the way you came up.
After completing Boolimba Bluff, we still had some kilometres left in our legs, so after descending back down to the main track, we ventured further up to see the Moss Garden. It's worthwhile taking a jumper to visit here as you will feel the temperature drop almost immediately as you delve further towards the creek that will eventually reveal a boardwalk leading to a trickling waterfall surrounded by a grand display of moss covering all the nearby walls.
This walk took was about 12.5 kilometres long according to AllTrails and we complete it in just over 3 hours which included plenty of time to stop and soak it all in!
Day two: Boowinda Gorge, Cathedral Cave, Art Gallery, Wards Canyon & Ampitheatre
When completing this walk, it's best to go to the furthest point at Boowinda Gorge first, then make your way to the destinations closer to the end of the course. This walk winds up and around Carnarvon Creek which is always flowing, even when there hasn't been any rainfall in months, given rain from the high country slowly drips down the surrounding sandstone until it meets a purple-coloured rock called shale that water cannot pass through.
You'll rock hop across the creek a number of times (hiking poles will really come in handy for longer walks and especially while you're crossing creeks) before finding a sign pointing you in the direction of Boowinda Gorge. You'll feel the temperature drop once again as you wind up through the gorge, taking in the intricate rock walls that have been carved by the elements over thousands of years. We didn't go too far up the gorge as we were aware that we still had plenty more to see and limited daylight left!
Close to Boowinda Gorge, you will find Cathedral Cave where the boardwalk will bring you up close to ancient Aboriginal paintings where there's informative signs indicating what each of the symbols mean so you can get an insight into the stories of this sacred Aboriginal sight. From there you will make your way to the Art Gallery which similarly displays a stretch of rock walls displaying Aboriginal paintings.
Heading back to the main walking track again, you will find another branch to ascend a steep incline that leads to a small waterfall. Climbing the steps, you'll eventually reach another cool oasis known as Wards Canyon. This is the only place in Australia where King Ferns can be found inland, these magnificent ferns usually can only be found along coastal areas but due to the cool, moist habitats within Carnarvon Gorge, these ferns thrive in this particular spot.
Lastly, you will walk to the Amphitheatre. You'll walk up the well-formed path until you come across a grand rockface with a split running directly down the centre. Climb the ladder to walk through a dark cave, where you will then step out into the middle of the Amphitheatre, a grand room with carved rock walls featuring a small fern garden in the centre. Your footsteps will echo and reverberate off the walls here and is an excellent place to practice your opera skills due to the excellent acoustics!
It is possible to add the Moss Garden onto this walk as well (most people do) but given we had completed that destination the day before, we chose not to visit it again.
Day three: Mickey Creek, Rock Pool & Nature Trail
By day three, our weary legs needed a gentler walk after the big hike from the day prior, so these short walks were perfect.
When driving along the main road towards the visitor's area, you will see a car park with a sign advising the start of the Mickey Creek walking track (you will also find it on the visitor's map too). Park your car here and follow the path until you reach a fork advising to turn left to follow the creek or turn right to head towards the gorge, we did both!
First, we went left towards the creek, where you will eventually reach a sign indicating that the formed path has ended. You can keep following the creek up further but a fellow walker advised us that there wasn't much to see past this point so we headed back to the fork, to then go and check out the gorge. Again, you will reach another sign advising that the formed path has ended when you walk towards the gorge, however it is worth continuing past this point if you don't mind doing a bit of rock hoping and climbing over boulders and logs. You will wind through the gorge to find incredible rock formations and it's wonderful to look up above and see sunny blue skies while you're down below walking through the cool, dark rock caves.
Once completing this walk, we headed to the Rock Pool walk which is only 300 metres from the car park. This would be a beautiful spot after some rainfall as swimming is permitted here unlike some other spots, however when we went it was more like a swamp due to there not being any recent rain.
After that, we headed towards the visitor centre to complete the very last walk which was the Nature Trail. This is only a short walk and will take you only 30 minutes or less, but is worthwhile as we were fortunate enough to see a platypus in the creek as well as kangaroos and wallaby's. The best time to go is during dusk to increase your chances of seeing wildlife – watch out for snakes!
You will also see on the map there is a walk to Balloon Cave, which at the time of writing this was closed due to damage from fires.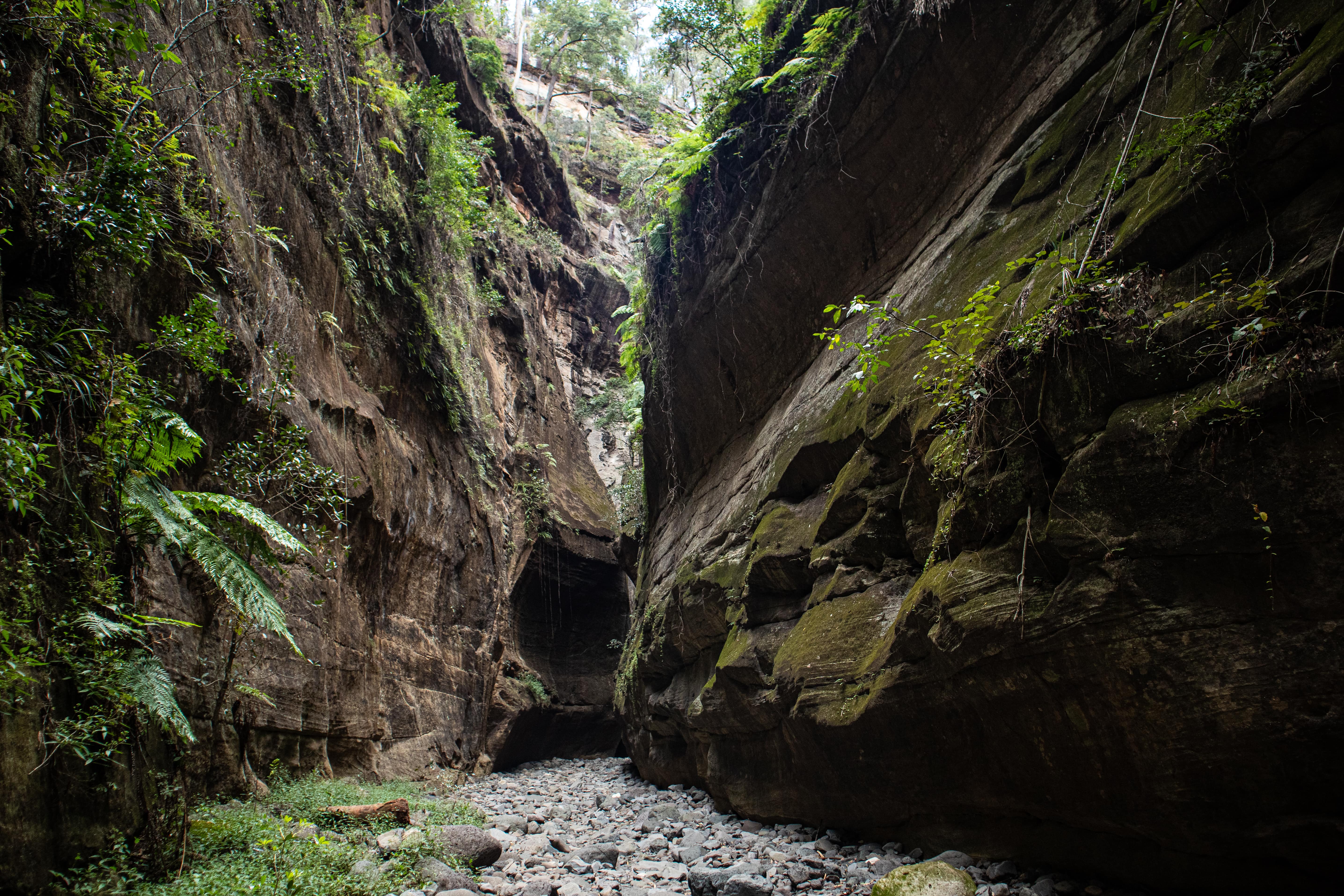 This outback oasis is as spectacular as the photos, if not more so. The grand rock formations throughout Carnarvon Gorge are reminiscent of those in America's Yosemite National Park, so while COVID has crushed a lot of our travel dreams, know that we are incredibly blessed with ample choices for epic adventures, right here in Queensland.
If you do visit Carnarvon then make sure you tag us in your adventures on social media by using #KokodaChallenge. Check out some of our other favourite hiking tracks below and make sure you register your details below to get more content like this delivered straight to your inbox!
Try some of out other favourite hikes: