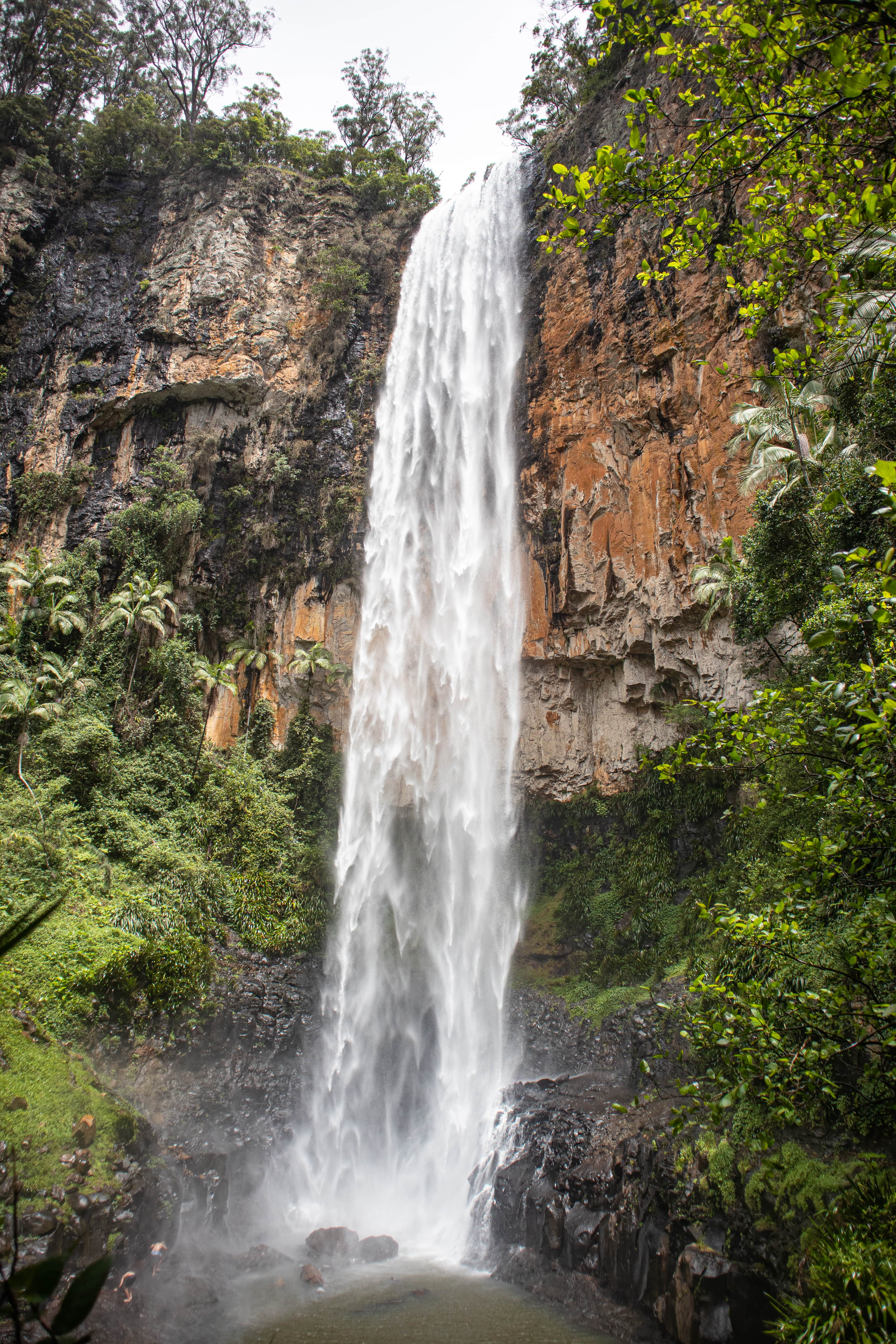 Purlingbrook Falls, Springbrook National Park
Every Gold Coast local has ventured to the magnificent Purlingbrook Falls in Springbrook National Park. Not only is it an iconic Gold Coast destination, it's a great place to train in the lead up to the Kokoda Challenge. Many of us have been to Purlingbrook Falls but have never wandered further down to explore the Warringa Pools that is far less crowded and offers a secluded swim spot.
Duration:
The Purlingbrook Falls Circuit is approximately 4-5kms, but if you journey further down to the Lower Warringa Pools then you will add a further 4kms to your walk, taking your total to approximately 9kms of walking. All up, you will be hiking for around 2-3 hours, plus you'll want to allow a little extra time to get your 'gram shot in front of the falls, plus enough time to relax and relish in the beauty of the rainforest.
While hiking long distances is super important to test your team's endurance in the lead up to The Kokoda Challenge event day, it's also vital that you get in lots of hill training as the 96km Gold Coast course is brutal! There are 5 big hills that you need to be prepared for and elevation training is crucial to getting you to the finish line, which is why we suggest Purlingbrook Falls. There are various signs around the lookout at the top of the falls recommending that you walk the waterfall circuit in a clockwise direction as there are a number of stairs to ascend if walking counter-clockwise (450 stairs to be exact!). If you want to go hard on your hill training then opt for doing the circuit counter-clockwise; the climb back up is steep!
If walking counter-clockwise, you'll meander down into the valley and stare in awe at the expansive views of the hinterland along the way. Hiking further down, you will start to hear the roaring sounds of the waterfall collapsing into the great lagoon you can swim in at the base of the waterfall. If it has been raining recently, you will be met first with the spray of the waterfall as it plummets into the rainforest. Cross the bridge that passes over the trickling river below and lap up the view from the base of the falls before heading up the stairs.
No matter the day, there are sure to always be crowds in this spot, so while it is a good idea to stop here and stare in wonder at this mammoth waterfall, we suggest continuing your journey further down to a more secluded swimming hole. Once you climb one set of stairs, you will see a pathway that branches off the main path and heads further down into the valley. Not many people venture down here but it is well worth it! The path isn't as formed along this trail, so if it has been raining then prepare to get muddy. Keep winding down until you reach another smaller waterfall that cascades into a deep swimming lagoon. You'll almost always see adrenaline junkies jumping off the top of the waterfall here to the swimming hole below but make sure you check the pools for rocks before you give it a go! This is a great spot to stop for a break and have a swim as the return trail is nothing but up hill!
Take the same track back up to the base of Purlingbrook Falls to reach the main circuit again. When you do, make sure you turn right to start your ascent up the stairs. While it is steep, you will be rewarded with views of another small waterfall along the way. The path back up to the car park is wide enough that you won't have to constantly be squeezing past other hikers, especially because most people opt for the clockwise direction, so it is also good for all of our trail runners. Be mindful though that this is a tourist hotspot so if you want to avoid the crowds then you're better off avoiding weekends or during peak times in the middle of the day if you can.
There are plenty more lookouts that are a short drive away such as the Best of All Lookout that offers the most magnificent view of Tweed Valley. If the visibility is relatively good on the day, you should be able to see Mt Warning and as far as Byron Bay. Other times you may visit and you won't be able to see 3 metres in front of you because the clouds are so dense. Make sure you stop at some of the cafes and shops around this area to support local businesses and be mindful that you're not blocking the driveway of any of the locals if carparks are overflowing. As always, we ask all of our Kokoda Challengers to respect our beautiful Australian landscapes; take only photos, leave only footprints!
If you do train here then make sure you tag us in your adventures on social media by using #KokodaChallenge. Check out some of our other favourite hiking tracks below and make sure you register your details to get content like this delivered straight to your inbox!
Try some of our other favourite hikes: