Larapinta Falls, Lamington National Park
The hike to Larapinta Falls is sometimes referred to as the Christmas Creek Track to Westray's Grave or Stinson Wreck as you are walking alongside Christmas Creek the entire time. This will eventually lead you to Westray's Grave and there is a path further down the track that veers away from the creek and will lead you to Stinson Wreck.
How to get there:
The walk starts at the end of Christmas Creek Road, this road is bitumen up until a certain point and then it becomes a dirt road. While you don't need a 4WD to get there, if you have a car with very low clearance then you may struggle to make it to the car park where the trail starts (we were able to get there in a Ford Fiesta to give you an idea!). Along this road is various campsites and gorgeous little cabins you can stay at if you wanted to make a weekend of it and explore some of the other walks.
Duration:
Approximately 5-6 hours. The walk took us 5 hours, which included a lengthy stop at the base of the waterfall for lunch. We set a pretty good pace along the way and didn't have any rest stops on the way there or back.
Difficulty:
While the walk is mostly flat the entire way, it definitely is not easy. There isn't really a formed, distinct path so most of the time you are scrambling through muddy scrub by the riverbed or rock hopping on very slippery rocks. Make sure you take your time and be careful as the walk can be quite sketchy in some parts.
The walk starts by crossing Christmas Creek, you will see a marker on the other side of the creek indicating where the walk starts. All three walks to Larapinta Falls, Westray's Grave and Stinson Wreck start here and will wind you through the stunning rainforest in Lamington National Park. As mentioned, the path isn't well formed so you will need to look out for markers or ribbons to guide you, but getting lost is near impossible if you just follow the creek the entire way.
There are a million and one spots to stop along the way if you need a break or want to enjoy a refreshing dip, including a number of smaller waterfalls that lead into swimming holes. If the weather permits, we would definitely recommend packing your swimmers and a towel!
You will eventually come across a bright blue marker leading up to a very steep incline, this is the turn off for Stinson Wreck. There is a campsite up there and we ran into some people who had packed equipment to stay overnight as apparently it is a very difficult and slippery climb to the campsite as the elevation of the climb is 650m.
At Stinson Wreck there are remnants of a plane crash from 1937 that departed Brisbane and was set to land in Sydney. The plane and passengers disappeared, and it wasn't until ten days later that the plane was found in the mountains of Lamington National Park. Five people had passed away but two survivors remained, which is when volunteers flocked to Christmas Creek in order to create a track so the survivors could be rescued. Westray's Grave remembers Jim Westray who, after surviving the plane crash, set off into the dense rainforest to find help, but unfortunately died while trying to do so. You can learn more about this tragic plane crash by clicking here.
Someone has etched into the sign "really hard, turn back", so we kept following the path straight to head to Larapinta Falls. After hiking for another 20-40 minutes from Westray's Grave, you will start to finally catch a glimpse of the waterfall through the foliage and it makes all the falling on slippery rocks and trekking through mud worth it; it truly is spectacular. The mist coming off the base of the falls is the perfect way for you to cool down and enjoy a break. There is a swimming hole/lagoon at the base that you can swim in if you're brave enough to take on the ice-cold water – just watch out for leaches!
To get back to the carpark, take the same pathway you walked to get the waterfall and, when you do make it back to the car, make sure you also stop and enjoy the views of the mountains in Lamington National Park along the way and there's even a local café to drop into as well to support the local businesses that have been doing it tough during COVID!
Don't forget to share your photos and videos with us on Facebook and Instagram as we always love to see the adventure you go on!
Look out for these markers along the way indicating the right way to go to reach Larapinta Falls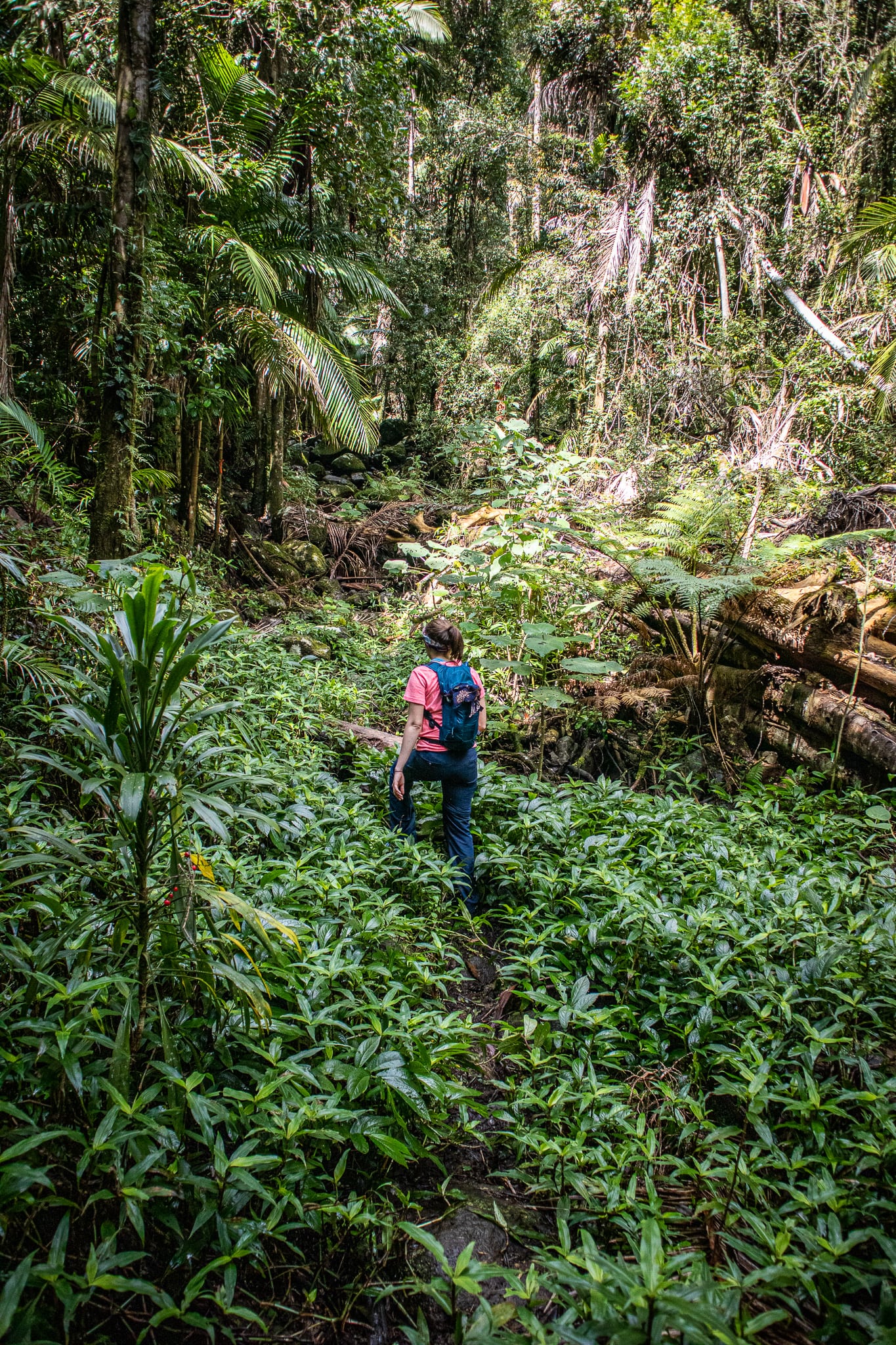 Disclaimer:
Be weary of snakes, as there is not much foot traffic here, they will certainly be around. We didn't see any but some other hikers we passed advised that they saw a python.
Also please note that this is not an easy hike and might not be suitable for children. If you aren't an experienced bushwalker who knows how to navigate you're way out of getting lost, then we do not recommend this walk for you as the path isn't clearly formed and there aren't many signs.
Try some of our other favourite hikes:
YOUR GUIDE TO GIRRAWEEN NATIONAL PARK
Get more great adventures like this delivered straight to your inbox by filling out your details below!