Your Guide to Hiking/Camping in Girraween National Park
If you're avid hikers like us, then you can sometimes get tired of walking the same tracks every weekend. If you're keen to try something new and don't mind going on a bit of a road trip or camping for a night then read on!
Location:
Girraween National Park is located on the border of Queensland and New South Wales, not far outside of Stanthorpe. If you live in central Gold Coast then it will take you about 4 hours to get there or 3.5 hours if you're coming from Brisbane city.
Camping:
While there is accommodation available nearby the day-use areas where most of the trails leave from, we chose to rough it and camp inside the national park. We spent one night at Bald Rock Campground which is one of two campsites in Girraween. We preferred the look of Bald Rock Campgrounds over Castle Rock Campgrounds as there were more trees, and it looked more secluded compared to the vast opening at Castle Rock. Both offer very similar amenities; toilets and showers (which weren't on while we visited due to drought) and woodfire barbecues (there are also electric barbecues in the nearby day-use areas if there is a fire ban or you forget to bring wood (taking wood from the national park is not permitted.)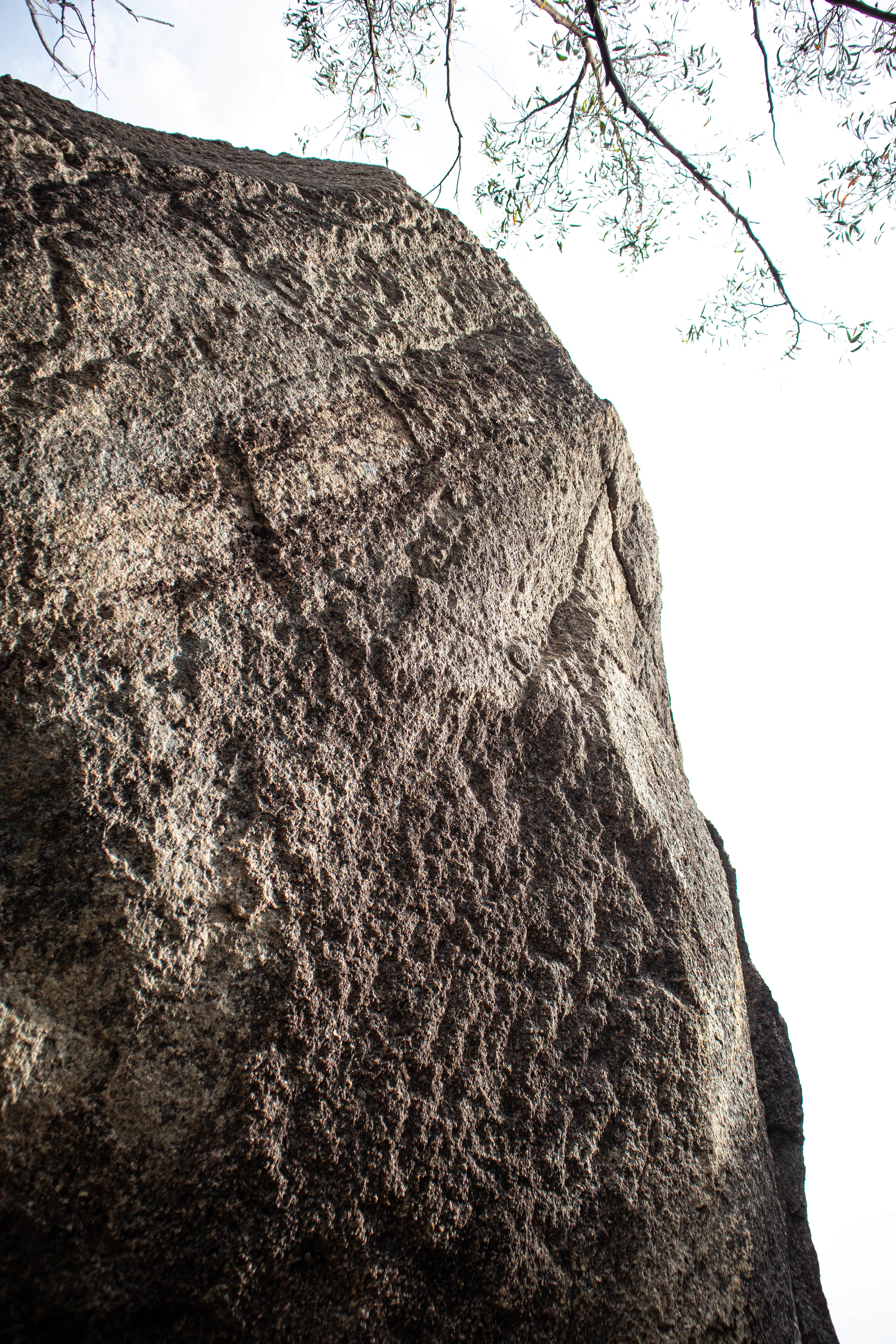 Day One – Hiking The Sphinx, Turtle Rock and Castle Rock:
We arrived later than expected during the afternoon so decided to tackle the Castle Rock hike which is said to take 2 hours return. The walk there was lovely, there are clear, formed paths winding around abstract rock formations and offering breathtaking views of the surrounding landscape along the way.
We did however accidentally miss the turnoff to Castle Rock and instead found ourselves at The Sphinx, which was incredibly impressive! The rock formation itself was magnificent, as was the breeze that rewards you when you get to the top. While the track is relatively flat most of the way, we would recommend going earlier during the day if visiting in summer as it can get very hot in the late afternoon; take lots of water!
If you continue on a bit further you will then get a view of Turtle Rock. Return via the same track and you will see sign posts along the way indicating where to turn off if you want to see Castle Rock. We spent a long time soaking in the views at The Sphinx, but this track could have easily been completed in two hours at a pretty quick pace.
Day Two – Hiking The Pyramid, Granite Arch and The Juction:
The following day we rose at sunrise to tackle The Pyramid, the Granite Arch and The Junction – all of which can be completed in one stint. We decided on climbing The Pyramid first because we didn't want to be scrambling over the steep cliff-face while it was too hot later in the day.
While the track is generally flat most of the way, once you reach the stairs, it's all up hill from there! There is a steep scramble as you get nearer towards the top which isn't for the faint-hearted. Given it had rained the night before, the rocks were quite slippery in some parts. Some of the cliff faces are a sheer drop looking over the bushland below – we wouldn't recommend taking kids along to this one, also make sure you have extremely grippy shoes.
There are white markers painted on the rock for you to follow making it near impossible to get lost. When you reach the peak of The Pyramid you are rewarded with a 360 view of Girraween National Park, it is ah-mazing! Not to mention, there is also a labyrinth of rocks and trees where you can seek shelter from the wind and follow more winding paths.
If you spend some time exploring the peak, you will eventually come across Balancing Rock (which appears to defy gravity!) and views of more obscure rock formations. To continue your journey onwards, scramble down the same way you got to the top, watching your footing along the way. As you head down The Pyramid you will again see a signpost indicating where to go to reach the Granite Arch – a stunning natural nock formation that looks like it was formed by giants!
Keep following the track past Granite Arch to reach The Junction and enjoy a refreshing dip here. This is where two rivers meet and have formed a number of trickling rock pools, the best place to stop, eat and soak in the sun.
To return back to the day-use are, head back the same way you arrived to The Junction but keep your eyes peeled for the turn off to Bald Rock Campground. This track will take you back to the day-use area while winding along the river along the way. If you drop your backpack off at your car, there is another waterhole only a 3 minute walk from the car park (follow the concrete pathway from the capark) to enjoy another dip. Here you can access views of The Pyramid that you have just conquered! These three walks combined will take you no more than 4 hours if hiking at a steady pace.
If you're still eager for more walks after you've stopped and recharged after lunch, Underground Creek is a short walk that only takes an hour and leaves from Dr Roberts carpark which is 4km east of the Girraween Information centre (there are free maps available at this information centre). This trail is also said to be magnificent and we will definitely be back to explore it again soon!
Important information:
Always make sure you check Queensland Government and the CFA's website before making the trek out to check for any closures or fire hazards. As with every adventure, it is important to take a healthy supply of food, water and first aid.
Try some of our other favourite hikes:
BEST SECRET WATERFALL NEAR THE GOLD COAST
Get more great adventures like this delivered straight to your inbox by filling out your details below!