2020 would have marked the 16th consecutive year of the Gold Coast Kokoda Challenge which, as you all know, we unfortunately had to cancel as a result of COVID-19. Our entire Kokoda community felt the dire impact of the cancellation and everyone was understandably devastated, so we thought we would try something a little different to pick everyone's spirits back up!
After the success of the Kokoda Virtual Challenge, we realised that our sense of community is much stronger than any pandemic, and if we were just able to think outside the box then we would still be able to do something to celebrate this significant day.
This is where the idea of the #KokodaCommunityChallenge came about. We invited our community to put on their Kokoda merchandise from previous years (whether it be a past competitor t-shirt or dog tags, hoodies, hats, anything!) and hit their favourite hiking trails to enjoy a pseudo Kokoda Challenge with their teammates!
We had people all over Southeast Queensland take part in the Kokoda Community Challenge including some who enjoyed the perfect weather in the Sunshine Coast by walking along the popular coastal track in Noosa while wearing their Kokoda hats: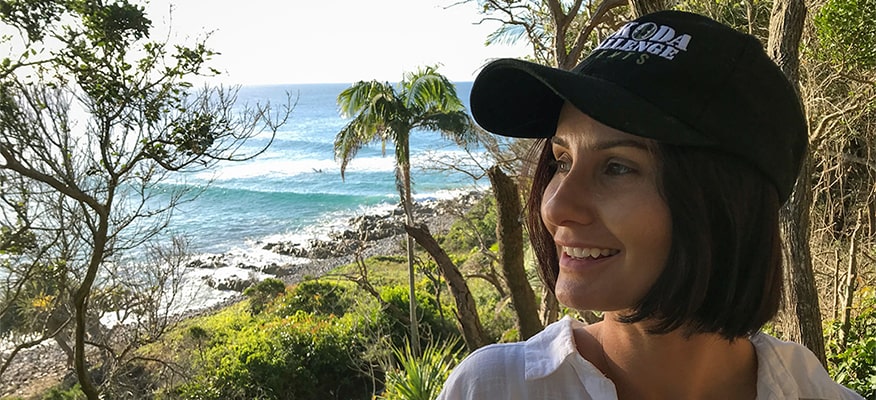 Others ventured into the Gold Coast hinterland to enjoy the climb down to the base of Purling Brook Falls all kitted out in their Kokoda t-shirts.
As with all of our events however, there is usually one or a handful of standout competitors who go completely above and beyond the rest. As for the Kokoda Community Challenge, the standout was undoubtedly our very own Lynley Mangin who is the Deputy Chair on our Board of Directors.
On Saturday, Lynley successfully completed 96kms in under 24 hours choosing a route that traversed through Lytton to Nudgee Beach all the way over to Mt Coot-tha in Brisbane while making stops at her home and workplace along the way.
Our Founder Doug and his wife Anna met Lynley at the halfway mark to cheer her on and provide her with some company while she treated herself to a small break before heading off again. This was where our Chief Operations Officer Johllene Elson joined Lynley as they made their way towards the Mt Coot-tha section of the route. Lynley was also joined by a few other friends along the way, which any past Kokoda Challenge competitor will tell you can be a huge help when your body starts to really hurt and you're lacking the motivation to keep going.
Lynley chose a different route to the Brisbane Kokoda Challenge track and was delighted to finally get to Mt Coot-tha to start walking on dirt trails as walking on the pavement really started to take a toll on her feet at the 51km mark. She also said that the route was a lot easier than the Kokoda Challenge tracks as it was a lot flatter than the pesky hills that are in our Kokoda Challenge routes. She victoriously finished at 2:40 am on Sunday morning and enjoyed a well-earned rest the next day after her mammoth effort.
Lynley currently holds the record for the most Kokoda Challenges ever completed with 13! She has participated in every Kokoda Challenge event since 2006 excluding 2008 where she was a volunteer. She has also trekked in Papua New Guinea 8 times as a volunteer leader for the Kokoda Challenge Youth Program.
We were overwhelmed once again by the ongoing support of our community, which is getting us more and more excited to make a bigger and better Kokoda Challenge event for 2021! If you haven't seen already, we have announced the dates for the Brisbane and Gold Coast event which you can find out more about here.
As for Melbourne, with everything currently going on in Victoria in regards to COVID-19, we haven't been able to secure a spot just yet but we will keep our Victorian family updated as soon as we are able to lock in a date!
Did you know that the reason the Gold Coast Kokoda Challenge is on the second weekend of July every year is because it marks the first battle fought in the village of Kokoda during the Kokoda Campaign in 1942 between the Australian and Japanese army? As well as providing you with Australia's toughest team endurance event and helping kids through our Kokoda Challenge Youth Programs, we also aim to educate Australians about the history of Kokoda as it is arguably one of the most significant battles fought in Australian history.
Make sure you stay in the loop with more updates like this by following us on Facebook: