Explore waterfalls and ancient rainforest in Lamington National Park
If you're looking for bushwalking trails near Brisbane or the Gold Coast to help you train for the Kokoda Challenge and enjoy a rainforest paradise at the same time, then Lamington National Park is the place to go.
Lamington National Park offers up a number of shady, graded hinterland tracks of varying lengths perfect for testing out your endurance whether you're a hiker or a trail runner.
Some of the best waterfalls near Brisbane and the Gold Coast are located in this park as many wild creeks run through it. Owing to its elevation nearly 1,000 metres above sea level in many sections, it also sees higher rainfall than many other areas of south east Queensland, which means you're able to chase waterfalls regardless of the weather.
The 17.4km Toolona Circuit is one of the most beautiful bushwalking trails in Lamington National Park, providing multiple waterfalls and ancient trees in a remote rainforest setting.
How to get there
Lamington National Park is located about a two-hour drive from Brisbane or 90 minutes from the Gold Coast, making it the perfect location for day hikes. There are two sections to the park – Green Mountains and Binna Burra, which are accessible from different points. The Toolona Circuit is located in the Green Mountains section.
The Green Mountains section of the park, also known as O'Reilly's due to its popular namesake guesthouse, is accessed via Canungra from Lamington National Park Road.
Lamington National Park Road is a winding, sealed but narrow road with many blind corners and some one-way sections so care is needed on the drive and you may need to give way to other cars at times. Drive to the end of Lamington National Park and the carpark is on your right.
Most trails start from the main Border Track, located near the O'Reilly's Guesthouse reception. The Border Track itself is popular for both hikers and trail runners and is essentially the spine of the park, leading across the top of the plateau for 21.4km and ending at Binna Burra.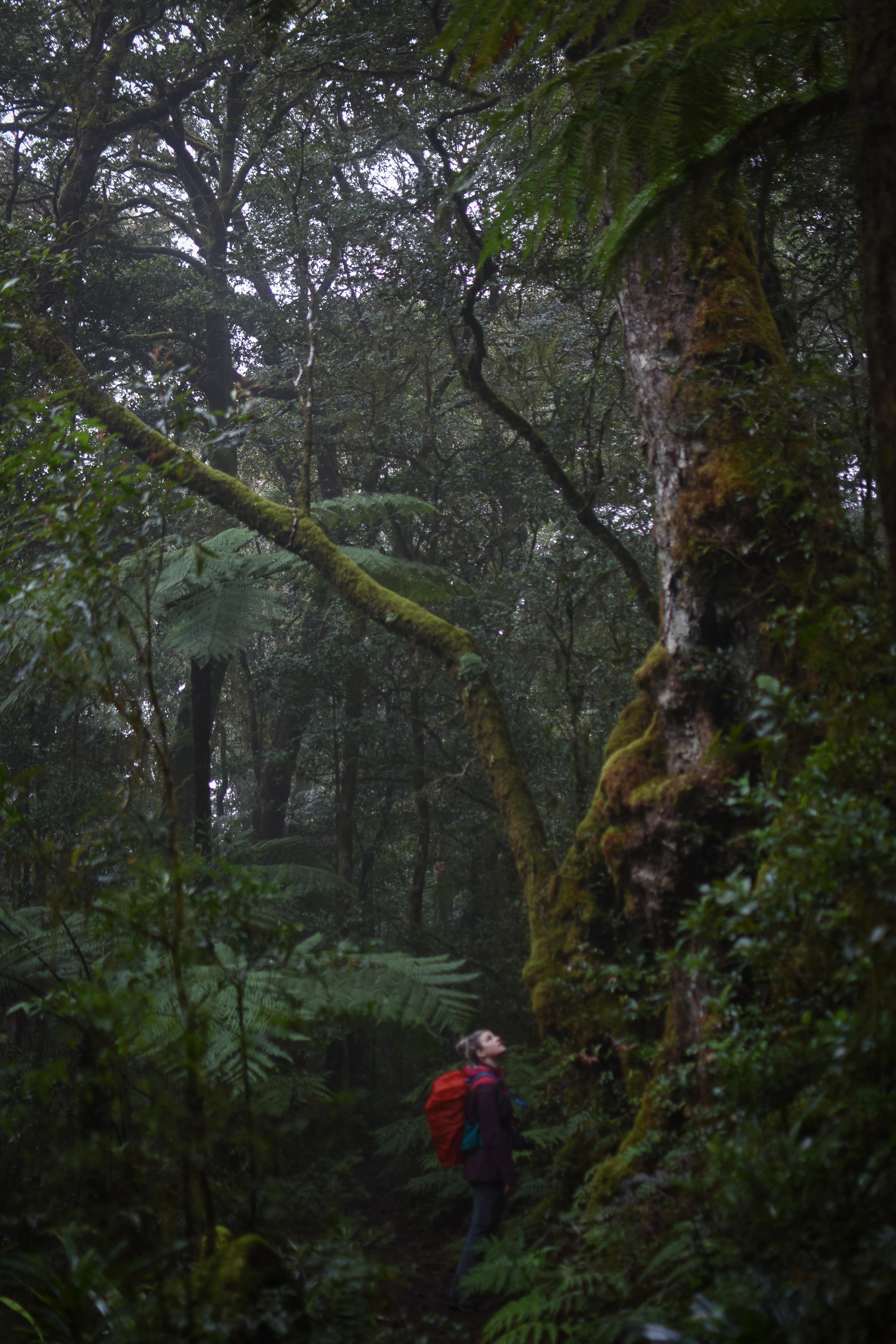 Duration
The Toolona Circuit hike is 17.4km and should take about 5-6 hours depending on your pace and photo stops (trust me, you're sure to make a few photo stops along the way).
Difficulty
The Toolona Circuit is classed as Grade 4, which means trails can be rough, overgrown and with little directional signage. However, the trail is well used so the path is fairly easy to follow. In some places where the track crosses the creek, you'll see orange directional markers ahead nailed to trees to help guide you.
The trail is of moderate difficulty, largely due to its length and there may be some obstacles, such as fallen trees and slippery rocks so care is needed. The ascents and descents of this trail are gradual as they wind up and down the plateau.
Toolona Circuit
Toolona Circuit starts on the Border Track. Head along the mostly flat path until you reach the sign for the Toolona/Box Forest circuits on your left. It's best to do this hike clockwise so turn off here from the Border Track.
You'll soon reach Picnic Rock and shortly after the often-photographed Elabana Falls before the track forks. Here you'll find a sign showing you where you are, and you need to continue straight ahead on the right fork to continue on Toolona Circuit.
Toolona Circuit closely follows its namesake creek and there's lots of waterfall chasing opportunities, including Chalahn Falls and Toolona Falls.
The trail goes down the plateau first, and then crosses Toolona Creek several times. The creek crossings are small and you'll generally cross by rock hopping rather than needing to get your feet wet, however care is needed as rocks can be slippery.
The trail eventually starts winding back up the plateau after Toolona Falls, and towards the end you'll start to spot the unique gnarled trunks of the Antarctic Beech trees, some of which are believed to be thousands of years old.
After a couple of hours on the Toolona Circuit, you'll reach the Border Track again. Turn right and you'll soon come across two lookouts which offers views out to Wollumbin (Mt Warning).
You'll reach one of the most substantial groves of Antarctic Beech trees in the park as you head along the Border Track towards Mt Bithongabel. It's worth taking your time through here and gaze up at the majestic trees.
After passing the Mt Bithongabel bush camp site, you'll see a turnoff on your left to Albert River Circuit. For a longer hike, you can take this exit. This is another trail with waterfalls aplenty as it follows the Albert River, but it will add another 3-4 hours to your hike depending on your pace.
If the Toolona Circuit is enough for you, simply continue straight along the Border Track to return to the carpark, which will take about an hour from this point.
The good news is you don't need to have a sunny day for this hike – it's beautiful on cloudy days or during light showers as mist hangs in the rainforest. It feels like an enchanted forest, as mist weaves through the ancient trees and you're more likely to see the unique blue Lamington crayfish in or near the creek.
For this hike, you'll need to bring;
2-3 litres of water
Snacks and lunch
Hiking shoes
Hat, sunscreen and insect repellent
First aid kit
Rainjacket and backpack cover in case of rain, and drybags for your valuables
Hiking poles may come in handy for the creek crossings
Things you should know
Make sure you apply insect repellent before you head out on this walk due to leeches. Leeches are common in this park, especially during and after recent rain.
Due to the leeches, it's best to wear long sleeves as well as long pants and tuck the bottoms into your socks.
It may be possible to see red-bellied black snakes or pythons on this track so be on the lookout and you might consider also wearing gaiters in the warmer months.
It's best to start this hike early to ensure you have enough time to complete the hike and also the earlier you start, the less people on the Border Track.
The hike can be completed any time of the year, rain or shine.
Important information:
Always make sure you check Queensland Government and the CFA's website before making the trek out to check for any closures or fire hazards. As with every adventure, it is important to take a healthy supply of food, water and first aid.
Try some of our other favourite hikes:
YOUR GUIDE TO HIKING IN GIRRAWEEN NATIONAL PARK
Get more great adventures like this delivered straight to your inbox by filling out your details below!