Unlike the 10km, 20km and 30km Kokoda Legacy courses, the 5km Remembrance Walk is an all ages, gentle walk through Kokoda Barracks that will lead you to a memorial situated inside the Barracks. While you will not be provided with a race bib, you will be given a poppy included in your registration fee to lay to rest at the memorial to honour the fallen servicemen and women. The 5km Remembrance Walk will start at 11am after a special memorial service. You will set off from the start line, follow a well-marked trail to the memorial and return via the same track. Children under 8 years of age will be able to paricipate for free.
WHAT IS KOKODA LEGACY?
The Kokoda Legacy event is back for one final year to celebrate the momentous 100th anniversary of Legacy Australia - a century of remarkable impact serving the families of veterans. Organised by the Kokoda Youth Foundation, 50% of proceeds will support our life-changing youth programs, with the other 50% being donated to Gold Coast Legacy who assist the families of defence force members.


Last year we raised over $47,000 for each charity!
DATE
Saturday 11th of November - Remembrance Day
TIME LIMIT
6 hours
CUT OFF DATE
November 3rd is the cut off date to register for the event and to make any changes to your registration
MINIMUM AGE
There is no minimum age for the 5km Remembrance Walk. All participants under the age of 18 must be accompanied by an adult guardian at all times.
START TIME AND LOCATION
The 5km Remembrance Walk will start at 11:00am. The start/finish line will be held at Canungra Area Golf Club located at 17 Alloah Rd, Witheren QLD.

Kokoda Legacy will be held throughout land owned by the Australian Defence Force where the army regularly conduct live firing drills, meaning there are some rules we must follow to ensure everyone enjoys the event safely. Please familiarise yourself with the following points:
SUPPORT CREW
Only registered participants can walk the course, there will be no support crew checkpoint for any distances meaning you must be entirely self-sufficient and carry all your own required gear.
SPENT AMMUNITION
If you find any spent bullets on the ground, please do not touch them as they can still explode!
FOLLOW THE SIGNAGE
Please ensure you are following the Kokoda track marking, which will be placed along the course every 100 to 150 metres.
EMERGENCIES
In an emergency, please call 000. In non-emergencies, please call the number displayed at poppy collection. Every participant must download the Emergency Plus app, which will show your coordinates in case you deviate off course, this will help us locate you. Please also take note of the way point signs as you walk so we can get an indictaion of your whereabouts if you do call us.
RACE BIBS
You will not require a race bib for the 5km Remembrance Walk.
TRACKING
Your time will not be tracked for the 5km Remembrance Walk.
TEAMS
While registrations for this event are for individuals, we encourage you all to walk with a team. This event is about the values of the Kokoda Spirit; Courage, Endurance, Sacrifice and MATESHIP.
DROP-OUTS
If you need to drop out at any time please call the emergency number displayed at poppy collection, and a Kokoda official will come to collect you for a safe extraction from the track, you are not to be collected by anyone other than Kokoda officials.
RESPECT THE LAND
Leave only footprints, take only photos! Please take all rubbish out with you and do not take anything from the land. If you are caught between toilets located at the checkpoints, you must dig a 30cm deep hole and bury any human waste and toilet paper.
Kokoda Barracks
This walk will lead you to a memorial situated in Kokoda Barracks, which typically is not open to the public as it still serves as a base for army training to this day.


Please note that Army Land is strictly prohibited to the public. No training prior to event day will be permitted.


You can view can view your map and elevation below: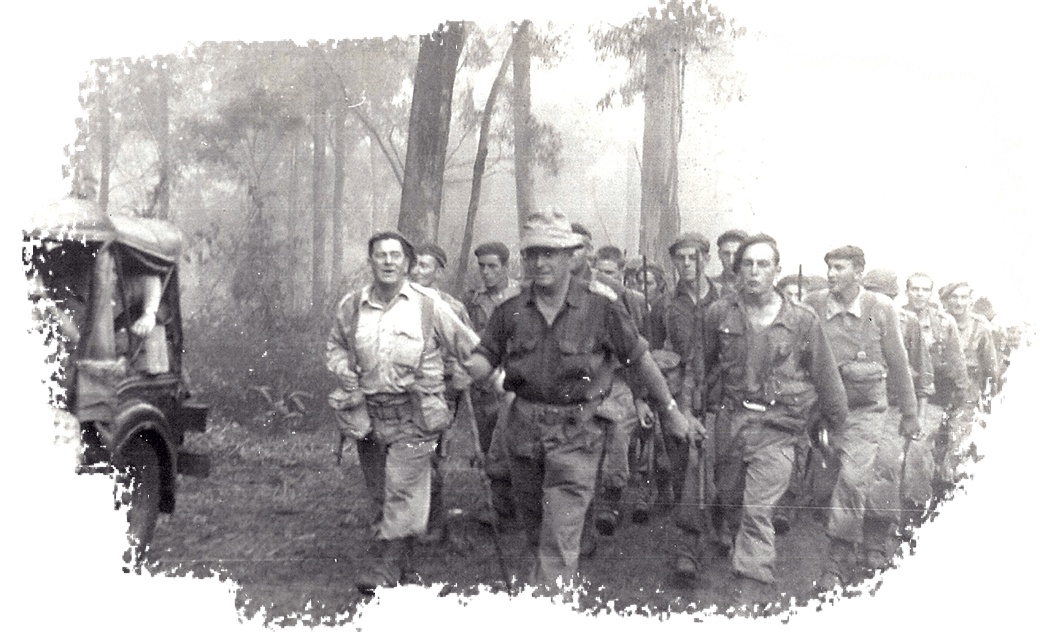 DO I HAVE TO FUNDRAISE?
Unlike our Kokoda Challenge events, fundraising is not a requirement to participate in Kokoda Legacy. However, if you would like to fundraise, your efforts will support local youth programs and families of our Veterans.
WHERE WILL MY MONEY GO?
50% of proeeds will go to the Kokoda Youth Foundation and the other 50% will go to Legacy Gold Coast
WHO IS THE KOKODA YOUTH FOUNDATION?
Established in 2004 by Doug Henderson and his wife Anna, The Kokoda Youth Foundation (KYF) supports young Aussies by inspiring them to do extraordinary things. The KYF is an Australian charity that runs a variety of youth programs. These programs encourage youth in our local communities to undergo life changing experiences, allowing them to reach their full potential as young adults.
Programs are focused on getting young Australians to engage with the Kokoda values of Courage, Endurance, Mateship and Sacrifice.
Every dollar raised and donated to the Kokoda Youth Foundation goes towards the development and running of these programs. It is your participation and the support of our donors that allow us to continue to change the lives of young Australians.
WHO IS LEGACY GOLD COAST?
In 1923 Legacy made a promise to help veterans' families carry on with their lives after the loss or injury of their loved one. They aim to provide the same stability, guidance and assistance that a partner would normally provide to his or her family.
Today, Legacy supports 43,000 partners and children of veterans who gave their lives or health serving our country.
Their work means a child gets an education, a widow is not disadvantaged and a family is not torn apart by the effects of PTSD or other physiological injuries.
Since the Legacy promise was made by a soldier to his dying mate in the trenches of WW1 to "look after the missus and the kids", Legacy has supported Australian Defence Force families in times of great need.
HOW DO I FUNDRAISE?
Click HERE for a full list of ideas on how to fundraise for these two great causes.
TRAINING GUIDE, TIPS AND TRICKS
TRAINING IS NOT PERMITTED IN ARMY LAND! THERE IS ALSO NO PARKING AT NUMINBAH HALL AND MT NIMMEL LODGE IF YOU ARE TRAINING IN THIS AREA


TRAINING ROUTES AND GUIDES
Want to get in some training? Check out some of our suggested training routes below:
HOW TO PREPARE
Check out some of the resources below that will help you get prepared for the Kokoda Legacy event:

Nutrition guide

WHAT YOU WILL NEED
Please ensure you are prepared with ALL of the following compulsory gear:
Ability to carry at least 2 litres of water at all times - either a water bladder or water bottles (Please arrive with full water containers!)

Mobile phone

Day backpack

Hat and sunscreen

Pealess whistle in case of emergencies

Snacks

Roll of toilet paper and a shovel (in case you're stuck between checkpoint toilets) (one per team)

Personal first aid kit
The following items are not compulsory, but are HIGHLY recommended:
Walking poles

Waterproof/windproof jacket

Portable phone charger

Spare pair of socks

Water shoes

Small lightweight microfiber towel to dry your feet after creek crossings or before re-strapping

Blister packs

Instant heat pads

Chapstick

Sunglasses

Reusable cup for hydrolytes
Chafing cream
DISCOUNTED GEAR AT ANACONDA STORES
We're excited to have Anaconda on board as our equipment partner again in 2023! To celebrate, Anaconda are offering all Kokoda Legacy participants exclusive discounts on the best outdoor equipment. Download your discount flyer below and redeem at your local Anaconda store to ensure you have all the right gear to get you to the finish line!
You do not need to collect an event packf or the 5km Remembrance Walk.
You will need to collect your poppy on event day, prior to commencment.
KOKODA CHALLENGE PARTNERS
THANK YOU TO OUR GOLD SPONSORS:



And to our other valued partners:
FIRST AID ACCIDENT & EMERGENCY
Scotty Whimpey and the team at FAAE have been involved with the Kokoda Challenge events for over 14 years! If you're after the best in first aid training and equipment, defibrillators and first aid kits, check out this amazing family owned, local first aid business for your next training session or simply upgrading your kits or AED's.
RIGS RECOVERY
Rigs Recovery are back on board this year offering all teams FREE contrast water therapy sessions after you've conquered The Kokoda Challenge! Plus they'll be bringing compression boots, massage guns and an ice bath to The Kokoda Challenge finish line so your team can begin your recovery as soon as you finish! Make sure you heard into Rigs Recovery in Bundall & Palm Beach in the lead up to the event to ensure your body is well prepared for the long challenge ahead!
A SPECIAL MENTION ALSO TO:
Getaway Trekking: who have kindly donated a free trip to our highest fundraising team
SOK Images: who you'll spot on the course & finish line photographing your adventure
Spring Waterman: who donated ALL of your water and has been doing so for over 15 years
The Kokoda Challenge events exist not only to provide your team with a mental and physical challenge, but also to raise funds for our life-changing youth programs that mentor kids in our local community.
DIGITAL DETOX PROGRAM
Our Digital Detox camp is fully funded by the donations raised through The Kokoda Challenge events, meaning we can provide the experience to kids completely free of charge so any 12-14 year old can take part, no matter their background.
This is an opportunity for kids to disconnect from technology and become more conscious of their relationship with their devices. Run onsite at our outdoor education facility Kokoda Park, this 7-day camp includes a series of adventure-based activities such as the high ropes course, rock climbing wall and giant swing, combined with educational workshops that teach mindfulness, breathing, yoga, journalling and more.
Submit an application to join the program or learn more ↓
KOKODA CHALLENGE YOUTH PROGRAM
Also fully funded by the donations raised through The Kokoda Challenge, the KCYP is a 9-month journey that will see 14-16 year olds hike the 96km Kokoda Challenge, adventure to Borneo to trek the Sandakan Memorial March and give back to local organisations through community service.
This program delivers increased social connections, a deeper understanding of the 1942 Kokoda Campaign and Australia's involvement in WWII, fostering connections in the local community and the opportunity to learn resilience and realise their full potential.
This program delivers a range of benefits, including strengthened social connections, a deeper understanding of the 1942 Kokoda Campaign and Australia's involvement in WWII, fostering connections in the local community and the chance to develop resilience and reach their full potential.
Submit an application to join the program or learn more ↓
ON THE RIGHT TRACK
This six month, regional school-based program is for students in Grades 8 and 9 who are losing interest in their ongoing education and at risk of exiting the schooling system.
The program operates one day a week and combines three months of physical training for the 48km Kokoda Challenge, whilst challenging kids to break through their pre-set beliefs and personal limits.
This is followed by three months of community service providing students with the opportunity to make a difference in their local area through positive contributions and connections.
KOKODA PATHWAYS PROGRAM
This school-based program is for senior students who feel they are at a crossroads with their education and future employment. Often they may be at risk of disengaging from school or family life, or experiencing a lack of direction and motivation.
The students will be mentored in the skills needed for workplace readiness in a range of careers, while also learning a range of social and personal development skills through adventure-based learning and Cognitive Behaviour Therapy (CBT).
1942 KOKODA campaign HISTORY
The Kokoda Campaign was a significant military operation that took place during World War II in 1942, between the Japanese and Allied forces, mainly Australian and Papua New Guinean troops. The campaign aimed to secure the Kokoda Track, a vital route connecting the northern and southern coasts of Papua New Guinea, which the Japanese intended to use to invade Australia.
The campaign began in July 1942 when the Japanese landed at Buna, Gona, and Sanananda on the north coast of Papua. The Australian forces, who were vastly outnumbered, were pushed back along the Kokoda Track towards Port Moresby, suffering from disease, starvation, and exhaustion. However, they managed to hold off the Japanese advance, and after several months of intense fighting, they were able to push the Japanese back to the north coast.
The campaign was fought in some of the most challenging terrain in the world, with the troops facing dense jungle, steep mountains, and treacherous rivers. The Australian and Papua New Guinean troops showed remarkable resilience, bravery, and resourcefulness throughout the campaign, which was a turning point in the Pacific War.
The Kokoda Campaign was a significant victory for the Allied forces, as it prevented the Japanese from establishing a foothold in Papua New Guinea and ultimately thwarted their plans to invade Australia. It also highlighted the importance of the Australian and Papua New Guinean partnership and the critical role that indigenous troops played in the campaign.
Read more about Kokoda Veterans who our school cups are named after: